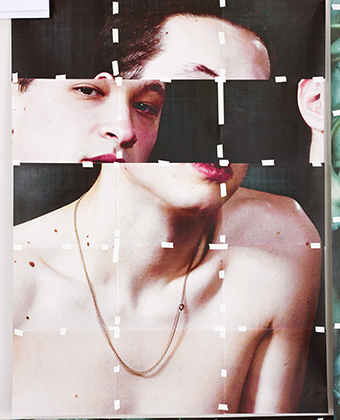 The De Pree Art Center and Gallery at Hope College will present the exhibition "Infinite Replica," featuring photography by 2012 Hope graduate Chris Cox, who has been the inaugural Borgeson Artist-in-Residence at the college, from Friday, Oct. 21, through Friday, Nov. 18.
Cox will deliver an artist's talk on Friday, Oct. 21, at 4 p.m. at the De Pree Art Center and Gallery, with an opening reception following from 5 p.m. to 6:30 p.m.
The public is invited to the artist's talk, opening reception and exhibition. Admission to each is free.
In describing the exhibition, Cox noted, "'Infinite Replica' utilizes the tools of photographic production to address the increasingly mediated environment. Using my personal archive as source material I'm asking questions relating to image production, circulation and distribution while attempting to situate myself within the collective image environment and exploit the viewers shared understanding of photographic production. The works in the exhibition show mention of the source archive but through the agency of the lens and technology are introduced as entirely new images."
Cox is an artist living and working in New York and received his MFA in photography from Cranbrook Academy of Art earlier this year. He recently had solo exhibitions at the University of Toledo and Neon Heater in Findlay, Ohio. His work has also been featured in recent group exhibitions at Mint Collective in Columbus, Ohio, and Cranbrook Art Museum in Bloomfield Hills. He is the self-published author of three artist books, most recently "Future Research (revisited)." Born in Toledo, Ohio, he grew up in the Midwest and upstate New York.
The Borgeson Artist-in-Residence program is hosted by the college's Department of Art and Art History, and was created through the generosity of Hope alumni Nancy and Clarke Borgeson. The 12-week summer residency supports the creation of new work through provision of a stipend as well as studio and living space on Hope's campus. The artist-in-residence meets with department students and alumni, and concludes the residency with a solo exhibition and artist's lecture at the De Pree Art Center and Gallery.
Additional sponsors of this year's gallery program include 40 Visuals and the Hope College Patrons for the Arts.
The De Pree Art Center and Gallery is located at 160 E. 12th St., on Columbia Avenue at 12th Street. The gallery is open Mondays through Saturdays from 10 a.m. to 5 p.m. and on Sundays from 1 p.m. to 5 p.m.