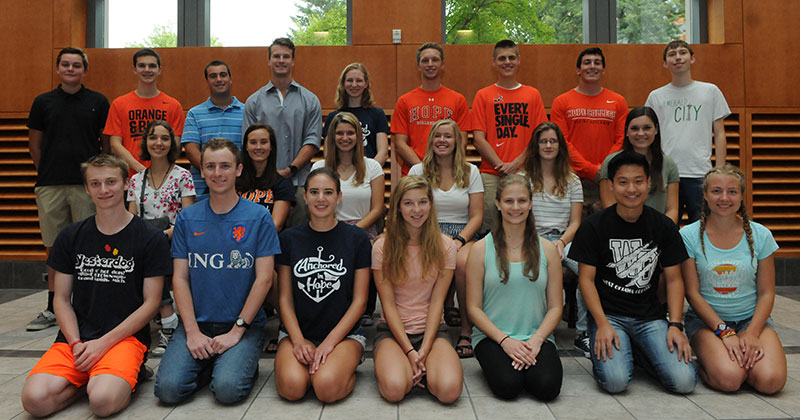 A total of 106 members of the freshman Class of 2020 have generational ties this year. Pictured from left to right are several of this
year's third-, fourth- and fifth-generational new students: Row 1: Max Stremler (third), Joel Karsten (third), Julia Keisling (fourth), Elena Northuis (fourth), Lauren Evert (fifth), Zachary Snoek (third), Megan Grimes (third); Row 2: Amy Olgers (fourth), Sophie Kleinheksel (fourth), Carly Groendyk (fifth), Anna Hubbert (third), Arjana VerHelst (fourth), Jenna Riekse (third); Row 3: Davis Von Ins (third), Alexander Oosterbaan (third), Joshua Potyraj (fourth), Cadan Kleinheksel (fourth, returning student), Anna Lunderberg (fourth), Charles Otteman (third), Matthew Van Dyken (third), Matthew VanHeest (third), Timothy Doorenbos (fifth).
If the information is incomplete or if we have missed someone, please send an email to alumni@hope.edu.
Fifth Generation
Timothy Doorenbos (Seattle, Washington)
Mother - Ardith Zwyghuizen '84 Doorenbos
Father - Keith Zwyghuizen Doorenbos '83
Grandmother - Helene Bosch '61 Zwyghuizen
Grandfather - John Zwyghuizen '59
Grandmother - Margaret Hospers '56 Doorenbos
Grandfather - Harvey Doorenbos '55
Great-Grandfather - Henry Hospers 1916
Great-Great-Grandfather - Henry Hospers 1889
Lauren Evert (Sterling Heights, Michigan)
Mother - Rochelle Anderson-Evert '92
Father - Lance Evert Jr. '91
Grandmother - Nelvie Meerman-Anderson '55
Grandmother - Marcia Spaan '63 Evert
Grandfather - Lance Evert '62
Great-Grandfather - Milton Spaan '36
Great-Great-Grandfather - Cornelius Spaan 1899
Caroline Groendyk (Grandville, Michigan)
Mother - Katie VerBeek '89 Groendyk
Father - Brian Groendyk '89
Grandmother - Sandra Dressel '59 VerBeek
Grandfather - Carl Ver Beek '59
Great-Grandfather - John VerBeek '26
Great-Grandfather - Otto Dressel '32
Great-Great-Grandfather - Gilbert Haan 1887
Fourth Generation
Alec Berrodin (Grand Rapids, Michigan)
Mother - Cheryl Tysse '86 Berrodin
Father - Frank Berrodin '84
Grandmother - Patricia Derks '63 Tysse
Grandfather - John Tysse '60
Grandfather - Albertus Derks '26
Great-Grandfather - John W. Tysse '29
Noah Blackburn (Holland, Michigan)
Mother – Catharine Johnson '89 Blackburn
Grandmother – Margo Meengs '62 Johnson
Grandfather – Douglas Johnson '62
Great-Grandfather – William Meengs '27

Brian Ellis (Holland, Michigan)
Mother - Barbara Cochran '83 Ellis
Father - John Michael Ellis '86
Grandfather - Jack Lamb '54
Great-Grandmother - Edna VanTatenhove '47 Haworth
Julia Keisling (DeWitt, Michigan)
Mother - Jill Eenigenburg '92 Keisling
Father - Brian Keisling '92
Grandmother - Pat Elzerman '66 Eenigenburg
Grandfather - Paul Eenigenburg '64
Great-Grandmother - Edith Rameau '41 Eenigenburg
Sophia Kleinheksel (Spring Lake, Michigan)
Mother - Kristin Johnston '88
Father - John Kleinheksel Jr. '86
Grandmother - Sharon Van'tKerkhoff '60 Kleinheksel
Grandfather - John Kleinheksel Sr. '60
Great Grandfather - Henry Kleinheksel '36
Anna Lunderberg (Grandville, Michigan)
Mother - Marla Hoffman '82 Lunderberg
Father - Jon Lunderberg '82
Grandmother - Carol DeVries '57 Hoffman
Grandfather - Vernon Hoffman '56
Great-Grandfather - Justin Hoffman '22
Elena Northuis (Portage, Michigan)
Mother - Jill McCandless '89 Northuis
Father - Michael Northuis '89
Grandmother - Jane MacEachron '58 McCandless
Grandmother - Eunice Schipper '52 Northuis
Grandfather - Donald Northuis '55
Great-Grandmother - Jean VanDam '24 MacEachron
Amy Olgers (Holland, Michigan)
Mother - Kathy Hogenboom '85 Olgers
Father - Greg Olgers '87
Grandfather - Dean Hogenboom '56
Grandfather - Earl Olgers '65
Great-Grandmother - Dena Habink '22 Hogenboom
Great-Grandfather - Joshua Hogenboom '25
Great-Grandfather - Lambert Olgers '30
Joshua Potyraj (Grandville, Michigan)
Mother - Anne Roos '90 Potyraj
Grandfather - Robert Roos '52
Great-Grandmother - Ruth Dalman '30 Roos
Great-Grandfather – Arthur Roos '23
Arjana VerHelst (Holland, Michigan)
Mother - Jennifer VerHelst '81
Grandmother - Janice VanderBorgh '50 VerHelst
Grandfather - Maurice Verhelst '50
Great-Grandmother - Susanne Dragt '27 Vanderborgh
Great-Grandfather - Garrett Vanderborgh '20
Third Generation


Sophie Awad (Holland, Michigan)
Mother - Ellen Tanis '90 Awad
Great-Grandfather - Edward Tanis '22
Jennie Blough (Mendon, Michigan)
Mother - Sheri Lutz '91 Blough
Father - Keneth Blough '90
Grandmother - Janet Hollander '63 Blough
Grandfather - Michael Blough '61
Peter Boerigter (Roseville, Minnesota)
Mother - Christina Eisenmann '88 Boerigter
Father - Dan Boerigter '88
Grandfather - George Boerigter '61
Erin Buit (Holland, Michigan)
Father - Robert Buit '88
Grandfather - Paul Buit '59
Jordan Bylsma (Hudsonville, Michigan)
Father - Dan Bylsma '84
Grandfather - Gary Bylsma '60
Logan Bylsma (Hudsonville, Michigan)
Mother - Susan Beswick '86 Bylsma
Father - Thomas Bylsma '86
Grandfather - Gary Bylsma '60
Corbin Frenette (Ann Arbor, Michigan)
Mother - Alicia Thomas '91 Frenette
Grandmother - Phyllis VanLandegent '66 Thomas
Addyson Gerig (Holland, Michigan)
Mother - Michelle Werkman '96 Gerig
Grandmother - Judy Dirkse '65 Werkman
Grandfather - Barry Werkman '64
Megan Grimes (Plainwell, Michigan)
Mother - Julie Norman '93 Grimes
Father - A. Dale Grimes, Jr. '91
Grandmother - Marilyn DeWitt '63 Norman
Noah Helmus (Holland, Michigan)
Mother - Lara Daverman '88 Helmus
Father - Ross Helmus '84
Great-Grandfather - Marvin Tinholt '30
Anna Hubbert (Grandville, Michigan)
Mother - Julie Beemer '92 Hubbert
Father - Ron Hubbert '92
Grandmother - Betty Kelder '65 Beemer
Joel Karsten (Ada, Michigan)
Father - James Karsten '84
Grandfather - David Karsten '56
Alexander Osterbaan (Ada, Michigan)
Father - Daniel Osterbaan '91
Grandmother - Joyce Brunsell '51 Kamps
Grandfather - George Kamps '53
Charles Otteman (Zeeland, Michigan)
Mother - Sabina DeWitt '92 Otteman
Father - Andrew Otteman '91
Grandfather - Jacob "Jack" DeWitt '32
Grandmother - Shirley Otteman '46 Outhouse
Jenna Riekse (Grand Ledge, Michigan)
Mother - Amy Nagel '90 Riekse
Father - Jonathan Riekse '89
Grandfather - Robert Riekse '55

Ben Ritsema (Zeeland, Michigan)
Mother - Amy DeVries '90 Ritsema
Father - Tim Ritsema '90
Grandmother - Anna Geitner '58 Ritsema
Grandfather - Harold Ritsema '57
Zachary Snoek (Holland, Michigan)
Grandfather - Harvey Laman '50
Great-Grandfather - Benjamin Laman '23
Maxwell Stremler (Grand Rapids, Michigan)
Mother - Erika Pott '90
Father - Jeff Stemler '91
Great-Grandfather - John Pott '34
Hannah VanderSlice (Wyoming, Michigan)
Mother - Tonya Rouse '99 VanderSlice
Father - Chris VanderSlice '99
Grandfather - Gord VanderSlice '74
Matthew VanDyken (Zeeland, Michigan)
Mother - Beth Kooienga '87 VanDyken
Father - Douglas VanDyken '87
Grandmother - Carol Fischer '62 Kooienga
Grandfather - William Kooienga '62
Matt VanHeest (Grand Haven, Michigan)
Mother - Barbara Good '87 VanHeest
Father - Tom VanHeest '85
Grandmother - Mary Richards '54 VanHeest
Grandfather - Cornelius VanHeest '52
Davis Von Ins (Holland, Michigan)
Mother - Carin Borr '89 Von Ins
Grandmother - Ruth VandenBerg '58 Borr
Grandfather - Roger Borr '58
Katelyn Westervelt (Fairfield, Connecticut)
Father - Robert D. Westervelt '66
Grandfather - Evelyn Huizinga '33 Westervelt
Second Generation
Sarah Anderson (Holland, Michigan)
Father - John Anderson '83
Cy Balk (Rockford, Michigan)
Father - Martin Balk '84
Jason Beckman (Shelby, Michigan)
Mother - Kim Baxter '87 Beckman
Father - Dave Beckman '85
Alexandra Berger (Holland, Michigan)
Step-Father - Matthew Farmer '04
Quinn Bouwkamp (Holland, Michigan)
Mother - Lisa Stevens '88 Bouwkamp
Sean Boysen (Holland, Michigan)
Mother - Janine Davison '87 Boysen
Father - Marty Boysen '86
Evan Bright (Zeeland, Michigan)
Father - Paul Bright '90

Marcus Brinks (Holland, Michigan)
Mother - Dawn DeWitt-Brinks '84
Father - Kurt Brinks '83
Alexa Brower (Holland, Michigan)
Mother - Tracy Boockmeier '89 Brower
Father - Terry Brower '89
Annie Bulthuis (Grand Rapids, Michigan)
Grandfather - Glenn Bulthuis Sr. '46
Payton Carson (Goshen, Indiana)
Father - Troy Carson '89
Jordan Corstange (Kalamazoo, Michigan)
Grandfather - Ellis Wykstra '61
Joseph Dawson (Richland, Michigan)
Mother - Janis Sanderson '87 Dawson
Father - Jeff Dawson '88
Morgan DeVries (Hamilton, Michigan)
Grandfather - Henry Breederland '64
Katherine DeVries (Devon, Pennsylvania)
Father - John DeVries '81

Bradley Dixon (Grand Rapids, Michigan)
Mother - Emily Cassell '99 Dixon
Charles Douglas (Troy, Michigan)
Mother - Jamie Meszaros '90 Douglas
Jeffrey Engle (Kalamazoo, Michigan)
Father - Jeff Engle '84
Parker Folkert (Bryon Center, Michigan)
Great-Grandmother - Hulda Rigterink '41 Folkert
Michael Gergely (Mattawan, Michigan)
Mother - Heidi Kuhman '91 Gergely
Father - Tim Gergely '91
Anna Gibbs (Bad Homburg, Germany)
Father - Brian Gibbs '84
Paige Green (New Hudson, Michigan)
Mother - Wendy Reynolds '85 Green
Father - Christopher Green '82
Ashley Gruber (Saint Charles, Illinois)
Mother - Wendy Wehran '89 Gruber
Alexandra Hagestad (Arvada, Colorado)
Grandfather - Jerry Schouten '70
Sally Hansma (Jenison, Michigan)
Father - Gerd Hansma '82
Christa Hansma (Jenison, Michigan)
Father - Gerd Hansma '82
Julia Hardy (Traverse City, Michigan)
Father - Tom Hardy '93
Caleb Harlow (Holland, Michigan)
Mother - Heidi Woehl '87 Harlow
Father - Jeffrey Harlow '85
Austin Heeres (Grandville, Michigan)
Father - Greg Heeres '85
Emily Heidema (Hudsonville, Michigan)
Mother - Diane Campbell '91 Heidema
Father - Chad Heidema '90
Caitlyn Heidenga (Wyoming, Michigan)
Mother - Melissa McEvers '88 Heidenga
Holly Heusinkveld (Vienna, Virginia)
Father - Paul Heusinkveld '72
Ethan Heyboer (Holland, MIchigan)
Mother - Diane Rencsok '85 Heyboer
Father - Douglas Heyboer '84
Maria Heyboer (Ada, Michigan)
Father - David Heyboer '87
Taylor Hitchingham (Gurnee, Illinois)
Mother - Susan Clearwater '89 Hitchingham
Father - Michael Hitchingham '91
Isaiah Hough (Saginaw, Michigan)
Father - Blair Hough '86

Hannah Huizen (Jenison, Michigan)
Great-Grandmother - Hildegarde Bos '37 Scheerhorn
Zoie Hulst (Byron Center, Michigan)
Grandfather - James Hulst '63

Joshua Izenbart (Glenwood, Illinois)
Grandmother - Joanne Van Lierop '58 Izenbart
Grandfather - Larry Izenbart '59
Kathryn Joachim (Dearborn, Michigan)
Mother - Anne Schloff '91 Joachim
Makayla Kragt (Zeeland, Michigan)
Mother – Wendy Viening '91 Kragt
Maxwell Kuiper (Grand Rapids, Michigan)
Father - Tom Kuiper '89
Maxwell Lam (Holland, Michigan)
Father - Gregory Lam '88
Carly Landstra (Grandville, Michigan)
Mother - Shawn Erskine '90 Landstra
DJ Litts (Holland, Michigan)
Mother - Kay Walvoord '76 Litts
Father - David Litts '76
Megan Lowell (Grand Rapids, Michigan)
Father - Christopher Lowell '92
Halla Maas (Zeeland, Michigan)
Mother - Heather Maas '98 Roden
Father - Scott Roden '11
Alessia Mainardi (Saranac, Michigan)
Mother - Julie Light '89 Mainardi
Father - Andrea Mainardi '86
Erin Markley (South Beloit, Illinois)
Mother - Kristina Ellis '89 Markley
Samantha Mattingly (Holland, Michigan)
Mother - Beth Kriekard '88 Mattingly
Madison McCall (Rockford, Michigan)
Mother – Megan Gager '91 McCall
Samuel McCulloch (Grand Rapids, Michigan)
Mother - Amy Baer '92 McCulloch
Father - John McCulloch '91
Brennan McKee (Battle Creek, Michigan)
Mother - Holly Moore '93 McKee
Father - Jamie McKee '94
Lauren Myers (Dorr, Michigan)
Mother - Janine Lenhart '91 Myers
Cole Persch (Hudsonville, Michigan)
Mother - Heather Cole '92 Persch
Father - Frederick Persch '91
Jonas Peterson (Holland, Michigan)
Father - Jonathan Peterson '84
Elizabeth Plasman (Grandville, Michigan)
Mother - Susan Kuiper '85 Plasman
Kathryn Recknagel (Saline, Michigan)
Mother - Paula Wyn '86 Recknagel
Father - Todd Recknagel '86
John Rosenbrook (East Lansing, Michigan)
Mother - Kristin Carton '92 Rosenbrook
Father - John Rosenbrook '91
Asia Rubio (Holland, Michigan)
Mother - Gwen Borg '95 Rubio
Madeline Sharp (Granville, Ohio)
Mother - Sara Wiper '89 Sharp
Mikaelah Snoap (Holland, Michigan)
Mother - Laura Bauman '95 Snoap
Father - Bruce Snoap '90
Laura Stagg (Greensboro, North Carolina)
Father - Geoffrey Stagg '77
Emma Stevens (Grand Rapids, Michigan)
Mother - Catherine Gerdy '92 Stevens
Father - Michael Stevens '91
Micah Stilwell (Holland, Michigan)
Mother - Tamara Nederveld '90 Stilwell

Lauren Strong (Grand Haven, Michigan)
Father - Matthew Strong '88
Lauren VanAelst (Everett, Washington)
Father - Scott VanAelst '89
Veronica Vance (Holland, Michigan)
Mother - Kate Payne '90 Vance
Father - Peter Vance '90
Breanna VanLaan (Lowell, Michigan)
Father - Steve VanLaan '03
Madison Wabel (Linden, Michigan)
Father - Kent Wabel '92
John Wehrmeyer (Holland, Michigan)
Mother - Jan Looman '94 Wehrmeyer
Father - Todd Wehrmeyer '86
Noah Weigle (Grandville, Michigan)
Mother - Jill Bernson '89 Weigle
Father - Matthew Weigle '89
Jacob Zoerhoff (West Ottawa, Michigan)
Mother – Juanne Bergsma '89 Zoerhoff
Father – Jarvis Zoerhoff '91