Hope College honored faculty and staff members for service to the college and other professional activity during the annual faculty recognition event coordinated by the Provost's Office and held at the Maas Center auditorium on Tuesday, Jan. 10.
The event included a program during which the college presented awards to eight members of the faculty and honored several others for service anniversaries at Hope. In addition, the Provost's Office is featuring online a listing of those with other notable professional activity during the past year, including book publications, leadership roles in professional associations, achievement as performing or visual artists or as coaches, and receiving awards and grants.
Named Towsley Research Scholars were Marissa Doshi (Communication) and Benjamin Kopek (Biology). The Janet L. Andersen Award for Excellence in Teaching was presented to Nancy Cook (Education). The Ruth and John Reed Faculty Achievement Award was presented to William Pannapacker (English). The Provost's Award for Service to the Academic Program was presented to Jonathan Hagood (History). The Motoichiro Oghimi Global Courage Award was presented to Ernest Cole (English) and Lorna Hernandez Jarvis (Psychology). Descriptions of the awards follow at the end of this document.
The college honored 25 members of the faculty for five-year service anniversaries beginning at two decades and through 45 years for a total of 670 combined years of service:
45 years

40 years

35 years

30 years

Nancy Cook (Education)
Tony Donk (Education)
Mike Jipping (Computer Science)
Perry Landes (Theatre)
Pat Roehling (Psychology)

25 years

Maria Burnatowska-Hledin (Biology and Chemistry)
Mihai Craioveanu (Music)
Annie Dandavati (The Philadelphia Center and Political Science)
Lee Forester (German)
Steve Hoogerwerf (Religion)
Lynn Japinga (Religion)
John Lunn (Economics)

20 years
The complete program is available here. In addition, while not connected to their research projects, the work at Hope of this year's two Towsley Research Scholars is reflected in two unique ways in a story by senior Elizabeth Ensink that is available here (it was written for a class taught by Marissa Doshi and explores Benjamin Kopek's leadership role in introducing use of a cutting-edge research tool to laboratories at Hope).
The Towsley Research Scholars Program is funded through an endowment made possible through a grant from the Harry A. and Margaret D. Towsley Foundation of Midland. Through the program, newer Hope faculty members receive support for a project for four years. The foundation's awards to the college have also included grants for the construction of the Van Wylen Library and the Schaap Science Center, faculty development in the pre-medical sciences and support for an endowed chair in communication.
The Janet L. Andersen Excellence in Teaching Awards are presented to faculty members who have been teaching at Hope for at least seven years and who have demonstrated recognizable excellence in specific activities or aspects of teaching. The award is named in memory of Dr. Janet Andersen, a professor of mathematics at Hope who died of injuries sustained in an automobile accident on Thursday, Nov. 24, 2005.
The Ruth and John Reed Faculty Achievement Awards recognize members of the Hope faculty who are superior teachers and have also contributed significantly in some other area of professional life. The award was established in memory of Dr.
Ruth Yzenbaard Reed, a 1965 Hope graduate who was associate dean of Macomb Community College. Reed died in August 1999 at age 55.
The Provost's Award for Service to the Academic Program is presented to individuals who have provided special contributions to the academic program through student academic support, general education, assessment work, implementation of programs that support/enhance the curriculum, and any activity outside of formal teaching that contributes to the overall excellence of the academic program.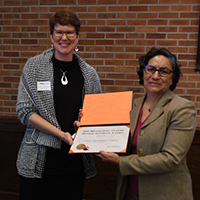 The Motoichiro Oghimi Global Courage Award is presented to individuals who exhibit the intercultural courage exemplified by Motoichiro Oghimi, a member of the college's Class of 1879 who came from Japan as one of Hope's first international students. It is given to faculty or academic staff members who exemplify deep engagement with the part of the college's mission that calls for preparing students for leadership and service in a global society; bold risk-taking in creating new ways and opportunities to help students engage with other people, places and cultures; and engagement in global initiatives that go above and beyond their normal responsibilities.