The Big Read Holland Area will return this fall, supported for the fourth consecutive year by an award to Hope College through the NEA Big Read.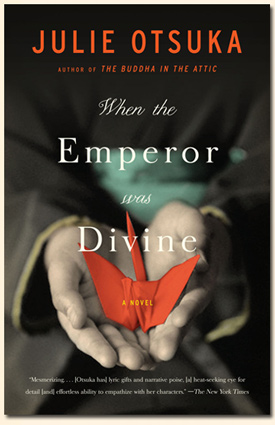 This year's program at Hope, running across the first three weeks in November, will feature Julie Otsuka's book "When the Emperor Was Divine."
The NEA Big Read is an initiative of the National Endowment for the Arts in partnership with Arts Midwest. Hope is one of 75 nonprofit organizations to receive a grant to host an NEA Big Read project between September 2017 and June 2018. The NEA awarded Hope $16,000 for the Holland-area event.
"When the Emperor Was Divine" transports readers to 1942, as it tells the story of Japanese-American internment from five points of view. The NEA's website for the Big Read says that the book "not only invites readers to consider the troubling moral and civic questions that emerge from this period in American history but also offers a tale that is both incredibly poignant and fully human."
The Big Read Holland Area is a Hope program with nine community partner organizations. Formed in 2014, the program puts on numerous events and book discussions centered on a specific novel each November. The previous three books were "To Kill a Mockingbird", "The Things They Carried" and "Brother, I'm Dying."
Details about this year's Big Read's food, music, art and lecture events will be released closer to fall. The program encourages book clubs interested in reading "When the Emperor Was Divine" to sign up on the Big Read Holland Area's website, and will provide five free copies to each of the first 10 clubs to do so. Additionally, Hope College, the Herrick District Library and the Howard Miller Public Library will give out free copies of Otsuka's novel in October and November.
This year the Big Read Holland Area has also chosen a children's book: "A Place Where Sunflowers Grow," by Amy Lee-Tai. "We wanted younger kids to be involved, too," said Dr. Deborah Van Duinen, who is executive director of the Big Read Holland Area and an associate professor of education at Hope.
More information this year's Holland Area Big Read program and book-club sign-up is available here.
Hope and the other participating organizations will match the NEA grant with additional financial and in-kind support, but committee members will also be contacting businesses and individuals in the area for sponsorships of book discussions and main events.
Since 2006, the National Endowment for the Arts has funded more than 1,400 NEA Big Read programs, providing more than $19 million in grants to organizations nationwide. In addition, Big Read activities have reached every Congressional district in the country. Over the past 11 years, grantees have leveraged more than $42 million in local funding to support their NEA Big Read programs. More than 4.8 million Americans have attended an NEA Big Read event, approximately 79,000 volunteers have participated at the local level, and 37,000 community organizations have partnered to make NEA Big Read activities possible. Last summer, the NEA announced a new focus for the NEA Big Read Library on contemporary authors and books written since the NEA was founded 50 years ago. More information is available.
Established by Congress in 1965, the National Endowment for the Arts is the independent federal agency whose funding and support gives Americans the opportunity to participate in the arts, exercise their imaginations, and develop their creative capacities. Through partnerships with state arts agencies, local leaders, other federal agencies, and the philanthropic sector, the NEA supports arts learning, affirms and celebrates America's rich and diverse cultural heritage, and extends its work to promote equal access to the arts in every community across America. More information about the NEA is available at arts.gov.
Arts Midwest promotes creativity, nurtures cultural leadership, and engages people in meaningful arts experiences, bringing vitality to Midwest communities and enriching people's lives. Based in Minneapolis, Arts Midwest connects the arts to audiences throughout the nine-state region of Illinois, Indiana, Iowa, Michigan, Minnesota, North Dakota, Ohio, South Dakota, and Wisconsin. One of six non-profit regional arts organizations in the United States, Arts Midwest's history spans more than 25 years. More information about Arts Midwest is available.