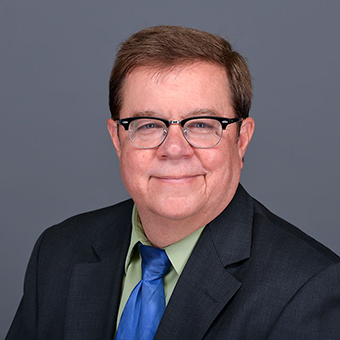 The book "At This Time and in This Place: Vocation and Higher Education," edited by Dr. David S. Cunningham of the Hope College faculty, earned recognition as a finalist for the 2017 Lilly Fellows Program Book Award sponsored by the Lilly Fellows Program in Humanities and the Arts.
The biennial Lilly Fellows Program Book Award honors an original and imaginative work from any academic discipline that best exemplifies the central ideas and principles of the Lilly Fellows Program, including faith and learning in the Christian intellectual tradition; the vocation of teaching and scholarship; and the history, theory or practice of the university as the site of religious inquiry and culture.
A total of 23 books were nominated for the award, and "At This Time and in This Place: Vocation and Higher Education" was one of three finalists. The winning book was "A New Moral Vision, Gender, Religion and the Changing Face of American Higher Education, 1837-1917" by Andrea Turpin. The finalists and winner were all honored during the Lilly Fellows Program National Conference at Loyola Marymount University on Friday, Oct. 27.
"At This Time and in This Place: Vocation and Higher Education," published in 2015 by Oxford University Press, is a scholarly examination of the concept of vocation — pursuing a meaningful calling in life — and how higher education can help students identify paths that offer more than a paycheck alone. It features contributions by 13 authors, including Cunningham, who is a professor of religion at the college as well as the director of the Network for Vocation in Undergraduate Education (NetVUE), which developed the book.
The book is designed to help readers understand the nature and significance of vocational reflection and discernment. It describes how faculty and staff can help students reflect on the "big issues" of meaning and purpose through classroom conversations, co-curricular activities, programs for community engagement and even attention to a campus's physical features. Its topics also include a historical overview of vocational discernment, as well as discussions of the current state of higher education, the role of faith in calling and vocation, and broader cultural trends.
Established in 2009, NetVUE is a nationwide network of more than 200 colleges and universities formed to enrich the intellectual and theological exploration of vocation among undergraduate students. It is sponsored by the Washington, D.C.-based Council of Independent Colleges (CIC). Cunningham became director and NetVUE moved its national office to Hope earlier this year.
NetVUE is an outgrowth of the Programs for the Theological Exploration of Vocation (PTEV) initiative launched by Lilly Endowment Inc. in 1999, providing an ongoing opportunity for discussion and additional resources for institutions that had participated in PTEV as well as for others. Hope received grants from Lilly Endowment Inc. in both 2003 and 2008 to establish and enhance the CrossRoads Project, which has encouraged students to explore intersections of faith, career, calling and life and helped expand campus exploration of vocation, including through long-running academic programs such as Hope's First-Year Seminars and Senior Seminars; support for individual departments; programming for students interested in pursuing lay or ordained ministry; and participation in workshops and external events for students. Many of the CrossRoads initiatives are now coordinated through the college's Center for Ministry Studies.
"At This Time and in This Place: Vocation and Higher Education" is the first of three books being developed by NetVUE's Scholarly Resources Project. Cunningham has directed the Scholarly Resources Project since NetVUE created it in 2012.