Pictured above: Cleveland Tarp, Randall Wade, Jonas Peterson and Dr. Jonathan Peterson
Seven Hope College geology students presented results from ongoing research projects during the Annual Meeting of the Geological Society of America, held in Seattle Washington, on Saturday-Wednesday, Oct. 21-25.
Six of the students presented posters in professional sessions on a range of projects they conducted in the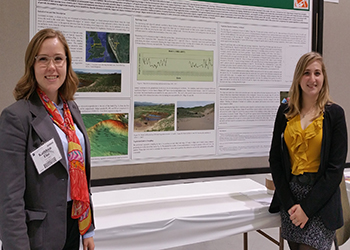 college's Department of Geological and Environmental Sciences under the mentorship of members of the faculty. The six students were: junior Kaitlin Caltrider of Mason; senior Kathleen Fast of Grand Rapids; junior Ian Gorgenson of DeWitt; junior Max Huffman of Coraopolis, Pennsylvania; sophomore Jonas Peterson of Holland; and junior Cleveland Tarp of Northville. The research included studies on vegetation density in open dune environments along the Lake Michigan coast; ecohydrology of dune environments in Wales, United Kingdom; particulate material in rural drinking water sources in developing countries; and effects of wind and waves on Great Lakes dune distribution.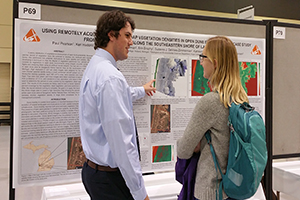 Hope senior Brooke Mattson of Twin Lake presented research from a summer project at Oregon State University examining lead contamination along mining roads in Alaska.
In addition, Randall Wade, a 2016 Hope graduate who is a research associate with the college's Day1: Watershed program, also participated in the meeting.
The students presenting about their research at Hope were mentored by faculty members Dr. Brian Bodenbender, professor of geology and environmental science; Suzanne DeVries-Zimmerman, adjunct assistant professor of geological and environmental science; Dr. Edward Hansen, professor of geology and environmental science and department chair; and Dr. Jonathan Peterson, who is the Lavern '39 and Betty DePree '41 Van Kley Professor of Geology and Environmental Science.
Established in 1888, the Geological Society of America (GSA) seeks to advance geoscience research and discovery, service to society, stewardship of the earth and the geosciences profession. The GSA has more than 26,000 members in 115 countries, and from the academic, government, and business and industry sectors.