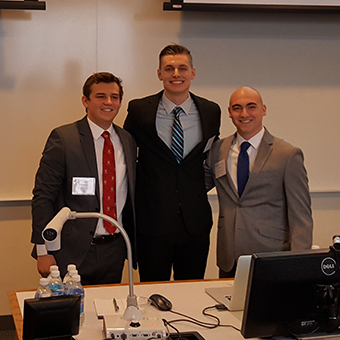 A Hope College student team has won the undergraduate division of the 2017 ACG Cup Competition, which took place on Saturday, Feb. 25, at Grand Valley State University in Grand Rapids.
The three students on the winning Hope team were seniors Alexander Green, a public accounting major from Pompano Beach, Florida; Ryan Havey, a management major from Slinger, Wisconsin; and Adam Vander Ploeg, a management major from Mundelein, Illinois.
Hosted by ACG (Association for Corporate Growth) Western Michigan, the competition provides an opportunity for business-minded students to gain valuable exposure to the mergers and acquisitions industry, network with area business leaders and firms, gain insight into West Michigan industries and engage with many other young professionals.
As part of the competition, which includes both undergraduate and graduate divisions, student teams analyze complex business cases and present strategies regarding merger and acquisitions, valuation, capital markets, finance options and corporate strategy. The teams present their cases to a panel of judges consisting of more than 65 business professionals from many of the area's leading firms, including BDO USA, Chemical Bank, Crowe Horwath, JP Morgan Chase, Perrigo, Plante Moran and Stryker. The teams' rankings are determined based on presentation and analysis.
As the undergraduate division's winners, Green, Havey and Vander Ploeg received a $3,000 grand prize, which was presented during ACG Western Michigan's Outstanding Growth Award event on Tuesday, March 21, at DeVos Place in Grand Rapids.
In addition to Hope, the participating colleges and universities were: Aquinas College, Central Michigan University, Cornerstone University, Davenport University, Grand Valley State University, Hillsdale College, Michigan State University, Northwood University and Western Michigan University