The folk music program of the Department of Music at Hope College will feature guest folk artist Red Tail Ring on Tuesday, April 18, in a workshop at 3:30 p.m. and a performance at 8 p.m. Both events will be held in the John and Dede Howard Recital Hall of the Jack H. Miller Center for Musical Arts.
The public is invited. Admission is free.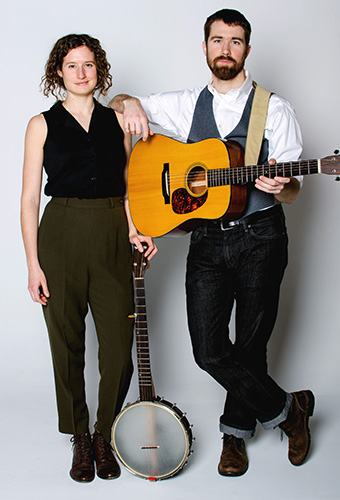 Jay Lapp of The Steel Wheels has praised Red Tail Ring, saying, "Red Tail Ring is re-imagining Americana music with pure soul and without pretension." American Roots UK has said that Red Tail Ring is "The very best of the 21st century's minimalist and highly original folk music … a peerless duo," and Rob Cole of the Grand Rapids Press has said, "Red Tail Ring brings to the stage a lively and commanding fusion of string and vocal harmonies. The pair delivers both established ballads and original compositions with a clear, authentic ease that manages to transcend traditional form while honoring its legacy."
The Michigander duo that makes up Red Tail Ring, Michael Beauchamp-Cohen and Laurel Premo, is known to infuse each of the pair's songs with musical imagination and instrumental artistry on fiddle, banjo, mandolin, jaw harp and plain-old foot stomping. "We love pushing the boundaries of what a traditional song can be," says Beauchamp-Cohen. "It informs how we write our original songs. There's a real energy exchange between the old and the new."
During the workshop at 3:30 p.m., Premo and Beauchamp-Cohen will perform selections from their original and traditional repertoire, and discuss their artistic choices and inspiration for the music. Audience and performer discussion will explore sources, arrangements, challenges and new composition choices within "roots music."
Red Tail Ring's concert at 8 p.m. will include the duo's renderings of traditional tunes, along with many original compositions.
The Jack H. Miller Center for Musical Arts is located at 221 Columbia Ave., between Ninth and 10th streets.