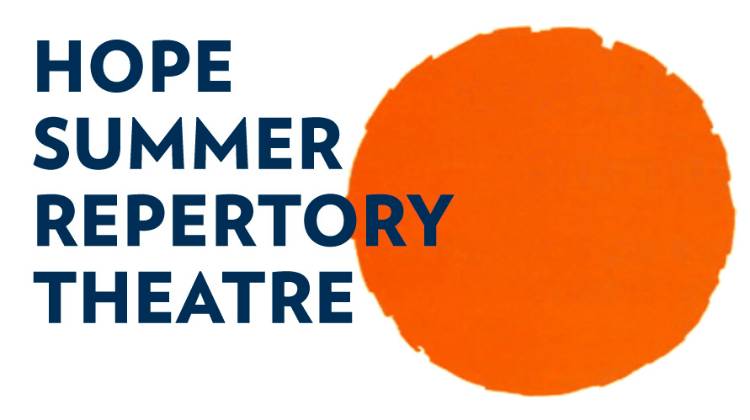 Committed to providing quality arts and entertainment to the Greater Holland Area, Hope Summer Repertory Theatre (HSRT) at Hope College is kicking off its 46th season.
The season has a taste of everything, from beloved classics with familiar toe-tapping tunes to Pulitzer Prize-winning dramas. As a company filled with professionals and young artists from across the country, HSRT enthusiastically continues the exploration of the human spirit.
Interim managing director Anne Bakker has been hard at work to prepare for the upcoming season. "I am excited about what HSRT has to offer for our 46th season -- outstanding theatre experiences for audiences of all ages. To paraphrase Susan Ericksen, a long time HSRT favorite, our productions have '… deep heart and commitment to excellence. That is the magic component that turns going to the theatre into a lifetime memory and life-changing experience,'" Bakker said. "This is what we want for each person who is involved – lifetime memories and life-changing experiences."
The season will open on Friday, June 16, and continue through Saturday, August, 12, with four main-stage productions and two plays for young people. The main stage will feature "Annie—The Musical," "Driving Miss Daisy," "A View from the Bridge" and "Working—The Musical," and the Children's Performance Troupe will present "Schoolhouse Rock Live!" and "Curious George: The Golden Meatball."
The performances of "Annie," "Driving Miss Daisy" and "A View from the Bridge" will take place at the DeWitt Center main theatre; "Working" and "Schoolhouse Rock Live!" will be in the Knickerbocker Theatre; and "Curious George" will be in the DeWitt Center studio theatre. The DeWitt Center is located on the Hope College campus at 141 E. 12th St., facing Columbia Avenue between 10th and 13th streets, and the Knickerbocker Theatre is located in downtown Holland at 86 E. Eighth St. between College and Columbia avenues.
Season tickets are currently available, and may be purchased through the ticket office in the Events and Conferences Office located downtown in the Anderson-Werkman Financial Center (100 E. Eighth St.). The office is open weekdays from 9 a.m. to 5 p.m. and can be called at (616) 395-7890.
Hope College Summer Repertory Theatre 2017 Productions
MAINSTAGE PRODUCTIONS:
"Annie – The Musical"
Book by Thomas Meehan, with music by Charles Strouse, and lyrics by Martin Charnin
Following the story of the fiery, red-headed orphan, "Annie – The Musical" is a classic tale of a young orphan stuck in a miserable orphanage under the care of the greedy Miss Hannigan. Her hard-knock life takes a turn for the better when she is chosen to live with the wealthy Oliver Warbucks. With the help of Mr. Warbucks, she discovers the meaning of family, love, and friendship.
"Driving Miss Daisy" by Alfred Uhry
This Pulitzer Prize-winning drama tells the story of Daisy Werthan, an elderly, southern, Jewish woman who is committed to maintaining her independence. Upon crashing her car, however, her son Boolie arranges for her to have a chauffeur: an African-American man named Hoke Colburn. Although they are initially wary of each other, Hoke puts up with the somewhat crotchety Miss Daisy with dignity, and ultimately, they form a friendly bond.
"A View from the Bridge" by Arthur Miller
As a longshoreman, Eddie Carbone is confident of his place in the working-class neighborhood he calls home. His life suddenly changes when he agrees to harbor his immigrant cousins, Marco and Rudolpho. A passionate drama by one of America's greatest playwrights, "A View from the Bridge" is full of suspense, jealousy, betrayal, and love.
"Working - The Musical"
From the book by Studs Terkel
Adapted by Stephen Schwartz and Nina Faso with additional contributions by Gordon Greenberg
Songs by Craig Carnelia, Micki Grant, Lin-Manuel Miranda, Mary Rodgers, Susan Birkenhead, Stephen Schwartz, and James Taylor
Nominated for six Tony Awards, "Working" explores the life of 26 Americans from all walks of life. This '70s classic has been updated from the original featuring new songs by Tony Award-winning composer Lin-Manuel Miranda, as well as Stephen Schwartz, James Taylor, Craig Carnelia, Micki Grant, Mary Rodgers, and Susan Birkenhead. Whether it be the schoolteacher, the mason, the phone operator, or the housewife, each character paints a portrait of the men and women that we so often take for granted.
CHILDREN'S PERFORMANCE TROUPE:
"Schoolhouse Rock Live!"
From the Series Created by George Newall and Tom Yohe
Based on an Idea by David McCall
Book by Scott Ferguson, George Keating and Kyle Hall
Music and Lyrics by Lynn Ahrens, Bob Dorough, Dave Frishberg, Kathy Mandry, George Newall and Tom Yohe
These classic Saturday morning cartoons come to life in a way that will have you eager to grab your backpack and head back to school. "Schoolhouse Rock Live!" is sure to light up the stage with familiar tunes like "Just A Bill" and "Conjunction Junction." Both educational and fun, "Schoolhouse Rock Live!" will leave those of any age with a smile.
"Curious George: The Golden Meatball"
Music by John Kavanaugh, Book and Lyrics by Jeremy Desmon
Based on the books by Margret and H.A. Rey
The Man With the Yellow Hat and his monkey are back again. Curious George is a lovable monkey who is always on an adventure, and this time you get to come along! Join Curious George on his quest to win the Golden Meatball Contest. Sure to make you laugh, sing, and dance, "Curious George: The Golden Meatball" is a treat for the whole family.