Clarinetist Joel Schekman will present a faculty concert at Hope College on Monday, March 12, at 7:30 p.m. in the John and Dede Howard Recital Hall of the Jack H. Miller Center for Musical Arts.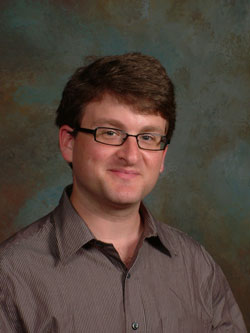 The public is invited. Admission is free.
This year's clarinet concert is themed "Twentieth Century French Music for Clarinet." The program will feature "Premiere Rhapsody for Clarinet and Piano," by Claude Debussy; "Sonata for Clarinet and Piano," by Camille Saint-Saens; "Abyss of the Birds" from "The Quartet for the End of Time," by Olivier Messiaen; and "Sonata for Clarinet and Piano," by Francis Poulenc.
Schekman, who plays both bass clarinet and regular clarinet, is a lecturer in music at Hope, where he has taught since 2008. A California native, he received his bachelor's degree at Indiana University before returning to Los Angeles for his master's at the University of Southern California. He studied with Eli Eban and James Campbell at Indiana, and with Yehuda Gilad at USC.
While in Los Angeles, he maintained an active teaching schedule and played with the Santa Monica Symphony and the American Youth Orchestra. An advocate of new music, he was a founding member of the group Music of Changes, performing premieres of many works. He also performed in the L.A. Philharmonic's Green Umbrella concerts, a new music series.
Schekman joined the Grand Rapids Symphony as a bass clarinetist in 2006. Regionally he has also played with the Kalamazoo Symphony, the West Shore Symphony and the Fort Wayne Philharmonic. He has also participated in the Sarasota and Spoleto festivals and has played in concerts with the New World Symphony and the Charleston Symphony.
Prior to coming to Grand Rapids, he played bass clarinet in the Spokane Symphony.
The Jack H. Miller Center for Musical Arts is located at 221 Columbia Ave., between Ninth and 10th streets.