The Hope College Knickerbocker Theatre will show four films featuring Marlon Brando during its "One Night Only" series every Monday from April 16 to May 7 at 7:30 p.m. The series focuses on Brando's early work, showing "A Streetcar Named Desire," "Julius Caesar," "The Wild One," and "On the Waterfront," which all premiered in a three-year time period.
Brando is routinely acclaimed as one of the greatest actors of all time. He was nominated for eight Academy Awards, winning two for Best Actor for his roles in "The Godfather" and "On the Waterfront." Along with his Academy Awards, Brando won four Golden Globes.
"A Streetcar Named Desire" opens the series on April 16. The 1951 drama, based on the play by Tennessee Williams, stars Vivien Leigh, Karl Malden and Kim Hunter along with Brando. Leigh plays Blanche DuBois as she leaves her job as a teacher due to personal issues and moves in with her sister Stella Kowalski (Hunter) and Stella's husband, Stanley (Brando), in New Orleans. From the start, Blanche realizes that Stanley is aggressive and has a threatening manner. As time goes on, relationships begin to fall apart as Stanley learns more about Blanche's past. Leigh, Hunter and Malden all won Academy Awards for the movie, which was nominated in 12 categories.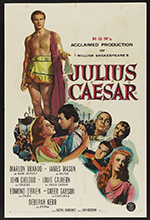 The series continues on April 23 with "Julius Caesar," a 1953 film based on a play written by William Shakespeare. The film stars Brando, James Mason, Louis Calhern and John Gielgud. Brando plays Mark Antony, a loyal companion of Julius Caesar (Calhern). As Caesar's ambition begins to grow, his friend Brutus (Mason) becomes concerned that Caesar will make himself monarch. Along with Caius Cassius (Gielgud) and other Roman senators, Brutus decides to assassinate Caesar. However, Brutus and the other Roman senators underestimate Antony's loyalty to Caesar. The film won one of the five Academy Awards for which it was nominated.
"The Wild One," showing April 30, is a 1953 film starring Brando, Mary Murphy and Lee Marvin. After causing trouble in Carbonville, California, Johnny Strabler, played by Brando, and his biker gang head to the small and quiet town of Wrightville. After one of the bikers gets into an accident, the gang is forced to remain longer than anticipated and proves disruptive to the town while Johnny falls for Kathie, the daughter of a policeman. The situation grows worse when a rival biker gang, led by Chino (Marvin), arrives.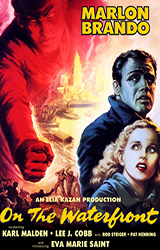 The series will end on May 7 with "On the Waterfront," a 1954 crime drama starring Brando, Rod Steiger, Lee J. Cobb, Karl Malden and Eva Marie Saint. Brando plays ex prize-fighter Terry Malloy, who works for Johnny Friendly (Cobb), a corrupt boss who has control of the waterfront union. After witnessing a murder commissioned by Friendly, Terry meets Edie Doyle (Saint), the sister of the man who was murdered. Terry feels obligated to testify against Friendly after meeting Edie and the priest Father Berry (Malden). However, Terry struggles to testify against his threating boss, whose right-hand man is Terry's brother, Charley Malloy (Steiger). The film won eight Academy Awards, including Best Picture, Best Actor for Brando and Best Actress for Saint in her first feature film.
The Knickerbocker Theatre's "One Night Series" features one actor or genre, with some of the past highlights being Audrey Hepburn, Cary Grant and Westerns.
Tickets for the individual films are $5, with admission free for Hope students. Tickets will be sold at the door but are also available in advance at the Events and Conferences Office located downtown in the Anderson-Werkman Financial Center (100 E. Eighth St.). The office is open weekdays from 8 a.m. to 5 p.m. and can be called at 616-395-7890.
The Knickerbocker Theatre is located in downtown Holland at 86 E. Eighth St.