A nursing study at Hope College was one of only 60 undergraduate research projects from around the country presented to members of Congress during the 2019 Posters on the Hill event sponsored by the Council on Undergraduate Research (CUR) in Washington, D.C., on Tuesday, April 30.
The Hope research, "Mother's Milk for Michigan Infants: Exploring the Personal, Social and Biological Factors of Maternal Milk Supply," was conducted by a team of four students and two members of the nursing faculty. Hope senior Alexandra Vroom of Crete, Illinois, represented the team during the event, which featured research in a variety of disciplines and was held in the Rayburn Café of the Rayburn House Office Building on Capitol Hill.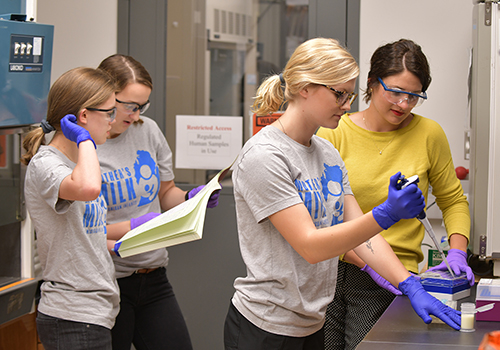 The Hope researchers note that while breastfeeding has health benefits for infants and mothers alike, many mothers prematurely discontinue breastfeeding due to a perceived insufficient milk supply. The researchers' goal has been to better understand what relates to mothers' milk production, and especially to learn how biology and the mothers' experiences relate.
"Increased knowledge related to the biological aspects of breastfeeding may be used to provide a foundation for personalized lactation interventions based on individual genetic variations and human milk biomarkers," their project abstract explains.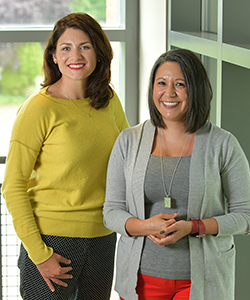 The team worked with 100 new mothers in West Michigan to collect information through surveys and by testing samples of their DNA (collected through saliva swabs) and milk. The results and conclusions are pending analysis of the samples.
The project's faculty mentors were Dr. Anita Esquerra-Zwiers, assistant professor of nursing, and Dr. Emilie Dykstra Goris, associate professor of nursing. In addition to Vroom, the students who conducted the research were junior Emma J. Johnson of Grand Rapids; sophomore Lauren Czmer of West Bloomfield; and sophomore Ana Perecki of Romulus.
The four students, all of whom are nursing majors, had previously presented their research on campus, during the college's annual Celebration of Undergraduate Research and Creative Activity, held in the Richard and Helen DeVos Fieldhouse on Friday, April 12. The project is also included in the 2019 edition of the college's annual "Spera" publication that highlights faculty research and scholarly work.
The annual Posters on the Hill event is sponsored by CUR with support from the American Chemical Society and Institute of Electrical and Electronics Engineers-USA. It is held to highlight the work of undergraduate researchers from across the country to members of Congress, congressional staffers, federal government officials, academics and others, demonstrating the value of federal investment in undergraduate research.
The event is highly selective. In the event's abstract booklet, CUR's executive officer, Elizabeth L. Ambos, noted, "As is the case every year, students' research projects went through a rigorous, highly competitive review process, and were selected as the best from around the nation." Several Hope research projects have been chosen for Posters on the Hill through the years.