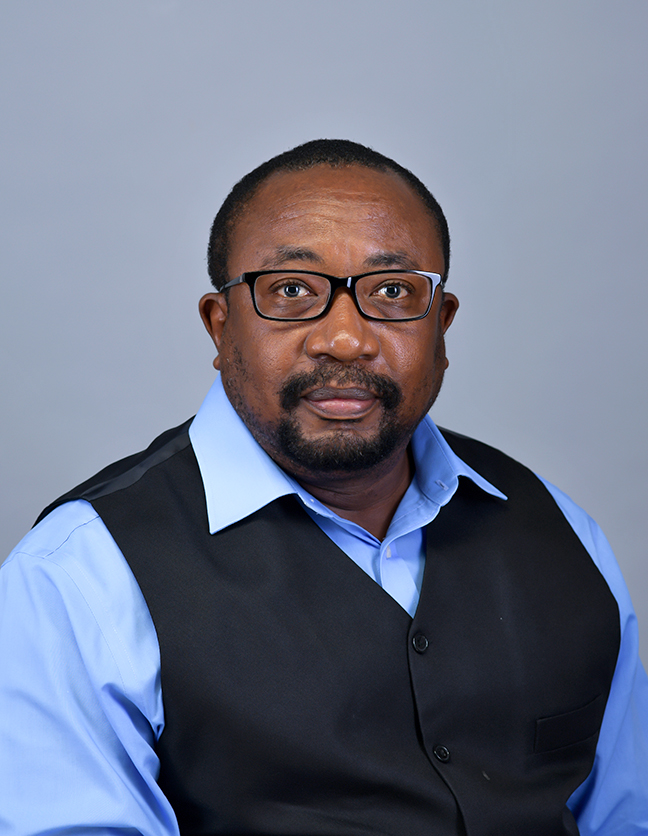 Dr. Ernest Cole of the Hope College English faculty will present the lecture "Negotiating the In-Between: Colonial Education, Spatial Geographies, and the Postcolonial Body in Transition" on Thursday, Sept. 23, at 3 p.m. in the Fried-Hemenway Auditorium of the Martha Miller Center for Global Communication.
The public is invited. Admission is free.
The presentation is the first in the college's new Arts and Humanities Professorial Lecture Series, which honors members of the division's faculty who were promoted to full professor in the prior year. Cole is the John Dirk Werkman Professor of English at Hope, where he also chairs the Department of English, and was promoted to full professor in 2020.
The lecture will explore the historical and cultural influences that shaped Cole's scholarship and pedagogical praxis from his high school and undergraduate experiences in his native Sierra Leone, his time at the University of The Gambia, his graduate education at the University of Connecticut, and onto his career at Hope College. It does this by examining the intersections of geography and identity, education and power within the context of trauma studies, body studies and postcolonial literature. It draws from the works of William Shakespeare, Joseph Conrad, Daniel Defoe and Chinua Achebe to theorize the complications of the in-between space, the African diaspora, and the construction of identity using theoretical constructs of power from Said, Foucault, Soja, Massey, and Ngugi Wa Thiongo.
Cole specializes in post-colonial literature with particular emphasis on Sub-Saharan Anglophone African literature; disability studies with a focus on the disfigured body, violence and trauma; and travel and empire studies, especially Victorian literature and its intersections with world literature. His research focuses primarily on post-apartheid South Africa, but he is also interested in body and trauma studies, especially the ways in which bodily injury shapes identity. He is presently working on spatial theory as a construct of national and diasporic identities in post-conflict Sierra Leone.
He was born and raised in Sierra Leone, where he completed his bachelor's and master's degrees at the University of Sierra Leone, and began his career conducting research and teaching English at Fourah Bay College. During Sierra Leone's 1991-2002 civil war, he left for The Gambia, where he taught at The Gambia College and the University of The Gambia for a number of years. He subsequently pursued a doctorate at the University of Connecticut; he completed the degree in 2008, the same year that he joined the Hope faculty.
His publications include the books "Space and Trauma in Writings of Aminatta Forna" (2016); "Theorizing the Disfigured Body: Mutilation, Amputation, and Disability Culture in Post-Conflict Sierra Leone" (2014); and two edited collections, "Ousmane Sembene: Writer, Filmmaker, and Revolutionary Artist" (2015), with Oumar Cherif Diop, and "Emerging Perspectives on Syl Cheney Coker" (2014), with Eustace Palmer. He has also had multiple articles and book reviews on post-colonial literature in the Journal of African Literature Association, as well as book chapters in "A Critical Introduction to Sierra Leonean Literature" (2008) and "African Cultures and Civilizations" (2005).
In 2020, Cole was honored by the African Literature Association as author of the best article in African literary studies published in a major peer-reviewed journal article in 2019, for his article "Decentering Anthropocentrism: Human-Animal Relations in Aminatta Forna's 'Happiness,'" which was published in the Journal of African Literature Association in January 2019. In 2017, his article "Space and Trauma in the Writings of Aminatta Forna" was the focus of a roundtable session of the 43rd annual conference of the African Literature Association at Yale University. In 2012, he was one of 15 scholars nationwide chosen to participate in that year's Lilly Fellows Program Summer Seminar for College and University Teachers, "Teaching Peace and Reconciliation: Theory and Practice in Northern Ireland."
Hope named him a "Towsley Research Scholar" in support of his research in 2011, and presented him with its Motoichiro Oghimi Global Courage Award in 2017. He discussed his work during the college's Winter Happening event in February 2011, presenting the seminar "Negotiating Amputation, Forgiveness and Reconciliation," and was among the presenters during the college's September 2012 Critical Issues Symposium, which examined "Reconciliation: Hope in a Divided World."
Audience members who need assistance to fully enjoy any event at Hope are encouraged to contact the college's Events and Conferences Office by emailing events@hope.edu or calling 616-395-7222 on weekdays between 9 a.m. and 5 p.m. Updates related to events are posted when available in the individual listings at hope.edu/calendar
Due to the ongoing global COVID-19 pandemic, Hope is currently requiring that masks be worn by all individuals while indoors on campus unless in their living space or alone in their work space.
The Martha Miller Center for Global Communication is located at 257 Columbia Ave., at the corner of Columbia Avenue and 10th Street.