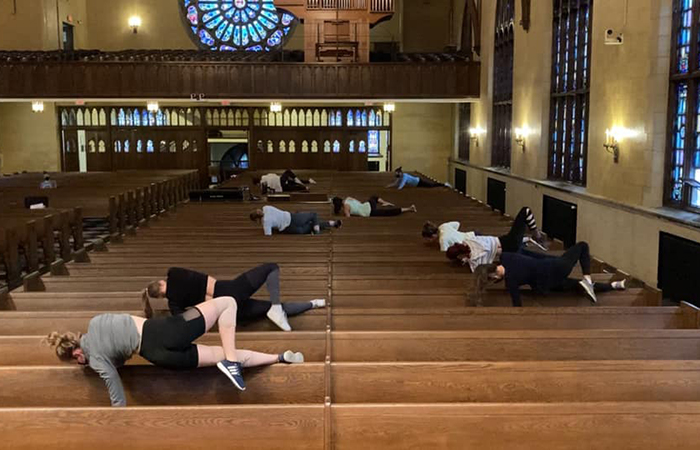 The H2 Dance Company will perform "Chapel -- A Site-Specific Dance Concert" on Friday and Saturday, Oct. 29-30, and Friday and Saturday, Nov. 5-6, at 7:30 p.m. at Hope College in Dimnent Memorial Chapel.
Seating for the event is limited to 100 people per performance, so advance ticket purchases are highly recommended.
H2 Dance Company is a pre-professional dance company associated with the Hope College Department of Dance. Leaning into the ever-changing environment of the current world, H2 Dance Company's concert sets out to transform the way in which today's audience experiences both sacred spaces and dance. This intimate concert, where the lines are blurred between where the audience ends and the dance begins, is aimed at igniting imagination and conversation. The audience will be seated on the stage while the performance occurs mainly in the traditional seating area.
Tickets are $10 for Hope College students and $15 for all others. Tickets are available at the ticket office in the Events and Conferences Office located downtown in the Anderson-Werkman Financial Center (100 E. Eighth St.). The ticket office is open weekdays from 9 a.m. to 5 p.m. and can be called at 616-395-7890. Tickets are also available online at hope.edu/tickets
Audience members who need assistance to fully enjoy any event at Hope are encouraged to contact the college's Events and Conferences Office by emailing events@hope.edu or calling 616-395-7222 on weekdays between 9 a.m. and 5 p.m. Updates related to events are posted when available in the individual listings at hope.edu/calendar
Due to the ongoing global COVID-19 pandemic, Hope is currently requiring that masks be worn by all individuals while indoors on campus unless in their living space or alone in their workspace.
Dimnent Memorial Chapel is located at 277 College Ave., at the corner of College Avenue and 12th Street.