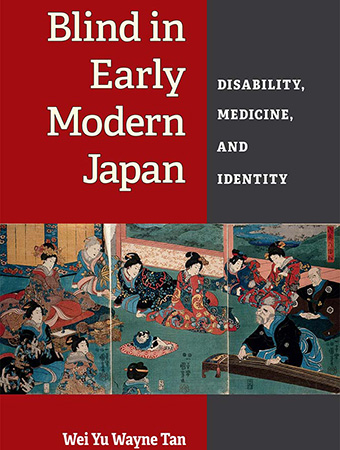 The book "Blind in Early Modern Japan: Disability, Medicine, and Identity" by Dr. Wei Yu Wayne Tan of the Hope College history faculty has received multiple awards for excellence from professional associations.
The book, published by the University of Michigan Press in 2022, covers the Edo Period (1600-1868) and examines how blind people in Japan were able to thrive, gaining power and respect in society, through prominence in a range of professions. It has won the American Historical Association's 2023 Patricia Buckley Ebrey Prize for a book on Pre-1800 East Asian history; the 2023 Outstanding Book Award from the Disability History Association; and Honorable Mention for the Presidents Book Award from the Social Science History Association.
The American Historical Association (AHA) offers annual prizes honoring exceptional books, distinguished teaching and mentoring in the classroom, public history and historical projects, with more than 1,300 submissions for the nearly 40 different awards that the association is presenting this year. The Patricia Buckley Ebrey Prize recognizes a distinguished book in the history of China proper, Vietnam, Chinese Central Asia, Mongolia, Manchuria, Korea or Japan prior to 1800. It is named for an internationally respected historian of China who is a professor emerita at the University of Washington at Seattle.
In its announcement, the Disability History Association (DHA) noted that "the depth and breadth of this year's submissions, as well as the individual works, are a testament to the continued vitality of disability history and to its capacity for expanding the historical discipline more broadly." The DHA praised Tan's book in particular as "an impressive piece of scholarship" that "reveals new understandings of the relationships between medicine/systems of medicine and being blind, as well as how (a non-Western) religion contributed to the meaning and experience of being blind."
The Presidents Book Award presented by the Social Science History Association (SSHA) recognizes early-career scholars for the scholarly significance, interdisciplinary reach and methodological innovativeness of a first work that analyzes past structures and events, and change over time. The SSHA announced "Blind in Early Modern Japan's" selection for Honorable Mention and announced this year's winner during the organization's 49th annual conference, held in Washington, D.C., on Nov. 16-19, 2023.
Tan, an associate professor of history at Hope, wrote "Blind in Early Modern Japan" to provide a new way of understanding not only disability but also history and culture.
"It's a less traditional way of telling the history of a place," he said. "It allows us to look not only into the institutional background of disability, but also to look at sources that tell us about everyday life and see how Japanese society functioned, and to include marginalized voices to tell a different side of history and to reexamine our assumptions about disability."
The book focuses especially on a guild of blind traveling musicians that also led a network of other guilds, in fields such as massage and acupuncture, that consisted of blind people. United through their strong guild structure, they were even able to monopolize some trades.
"In the United States and Europe, we don't see this organization of blind people and blind professionals," Tan said. "While we tend to think of disability in negative terms, the historical narrative that I outline for Japan is more complex. There were blind people who worked within the system and gained some advantages for themselves, but also many others who were left out and even exploited."
The awards from the AHA and DHA aren't the first acclaim that "Blind in Early Modern Japan" has received — it previously earned praise from numerous reviewers. For example, "Choice 360" of the Association of College and Research Libraries featured the book in conjunction with its commemoration of July's Disability Pride Month, summarizing it as "highly recommended" and calling it an "important contribution to disability studies." In its review, the journal Social History of Medicine said, "More than simply presenting Tokugawa Japan as a case study in the larger corpus of the history of disability, it encourages scholars to reconsider approaches to writing about blindness and visual impairment."
"Blind in Early Modern Japan" chronicles the beginning of a story that Tan has been exploring for more than a decade. He initially became interested in the topic during his first visit to Japan in 2009, when he noticed extensive infrastructure for people with visual impairments that included audio cues and tactile indicators at intersections for pedestrians.
Since the 2022 book's publication, he has been conducting research for a new volume that will carry the story forward in time, beginning in 1868 with the Meiji Restoration that reestablished imperial rule and continuing through the end of World War II in 1945. "I'm interested in how disability from the early modern period became disability in modern Japan, with a focus on science and medicine as Japan started to form itself into a modern nation-state increasingly influenced by Europe and the United States," he said.
For additional perspective on Wayne Tan's research, please see the story in the 2018 edition of the college's Spera research journal.
Tan has been a member of the Hope faculty since 2016, and was previously an Andrew W. Mellon Postdoctoral Fellow in the Humanities at Dartmouth College. He has presented his past and current research at professional meetings, including the National Endowment for the Humanities Summer Institute on the Global Histories of Disability, the Association for Asian Studies, the American Historical Association and others. His publications cover historical topics about Japan and East Asia from the 17th century to the present, including disability in modern East Asia, and acupuncture and anatomy in East Asian medical thought. He teaches courses in world history, Japanese history, East Asian cultural history, Russian history, disability history/studies, pandemics and social history, and the history of science and medicine.
The American Historical Association promotes historical work and the importance of historical thinking in public life. Incorporated by Congress in 1889, its mission to enhance the work of historians also encompasses professional standards and ethics, innovative scholarship and teaching, academic freedom and international collaboration. As the largest membership association of professional historians in the world (over 11,000 members), the AHA serves historians in a wide variety of professions, and represents every historical era and geographical area.
The Disability History Association is an international non-profit organization that promotes the study of disabilities throughout history, including the history of individuals or groups with disabilities, perspectives on disability, representations/constructions of disability, policy and practice history, teaching, theory, and disability and related social and civil rights movements. Membership is open to scholars, institutions and organizations, and others working in all geographic regions and all time periods.
The Social Science History Association is an interdisciplinary coalition of distinctive scholarly communities which share interests in social life and theory, historiography, and historical and social-scientific methodologies, and includes scholars from history, economics, sociology, demography, anthropology and other social sciences.
(Story updated on Nov. 21, 2023, to include news of the SSHA recognition.)