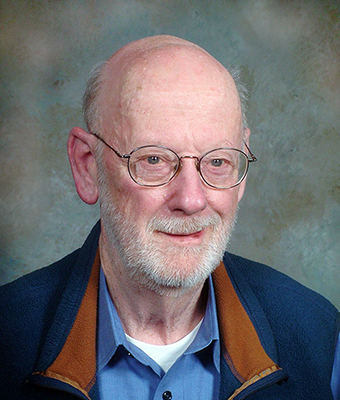 Dr. Hubert (Herb) Weller, who retired in 1996 as professor emeritus of Spanish after 34 years on the faculty, died on Thursday, June 29, 2023, after sustaining injuries in an accident. He was 89.
He was born and raised in Holland, Michigan. As a child, he sledded on the hill just south of Lubbers Hall.
He graduated from Holland High School, where he started studying Spanish. He went on to earn degrees in Spanish at the University of Michigan, where he completed his bachelor's degree in 1956; and Indiana University, where he completed his master's and doctorate in 1958 and 1965, respectively.
He joined the faculty in 1962, and during his time at the college served two terms as department chair. At a time when computers were not the common household companions they are today, he appreciated the machine's potential for more general educational use. As early as the middle 1970s, he was presenting papers on computer-assisted instruction in elementary Spanish. His groundbreaking SPANCOM program was used regularly at Hope and received national distribution through CONDUIT.
He served for 13 years on Holland's International Relations Commission, and was deeply involved in the Sister City program with Santiago de Querétaro, Mexico. He was a founder and database manager of the Alliance for Cultural and Ethnic Harmony, and an active member of First United Methodist Church, especially its Justice for Our Neighbors program. He was involved in the Hope Academy of Senior Professionals (HASP) and several Hispanic organizations. In retirement he also owned Weller Language Services, teaching students Spanish and translating documents between English and Spanish.
In 2022, he received a Lifetime Achievement Award from Holland's Human Relations Commission. He was honored for "dedicating his life to building a culture of learning and connection between the City of Holland and the wider world."
He was preceded in death by his mother, Huberdina, when he was six; his father, Peter Sr., when he was in college; his stepmother, Trudy, in 1965; and his brothers, Peter Jr., John and Tony and their wives. Survivors include his wife, Ann, whom he married in 1995; his son and daughter-in-law, Christopher (Becca) and their daughters Gretel Weller Geiger (Zach) and Bridget Weller; his stepchildren, Stephen Underwood (Salmy) and Susan Goff (Gerald); step-grandchildren and great-grandchildren, including Rachel, Casey, David, Jonathan, Zana, Ian, Khloe and David; sister-in-law, Lynn Emerick; and nieces, nephews, and cousins and their families.
A memorial service will be held on Thursday, July 27, at 11 a.m., preceded by an hour of visitation, at First United Methodist Church in Holland. The service will also be livestreamed.
Arrangements are by Langeland-Sterenberg Yntema Funeral Homes. In lieu of flowers, contributions can be made to Hospice of Holland or to the Alliance for Cultural and Ethnic Harmony Scholarship Fund.
First United Methodist Church is located at 57 W. 10th St., between River and Pine avenues.