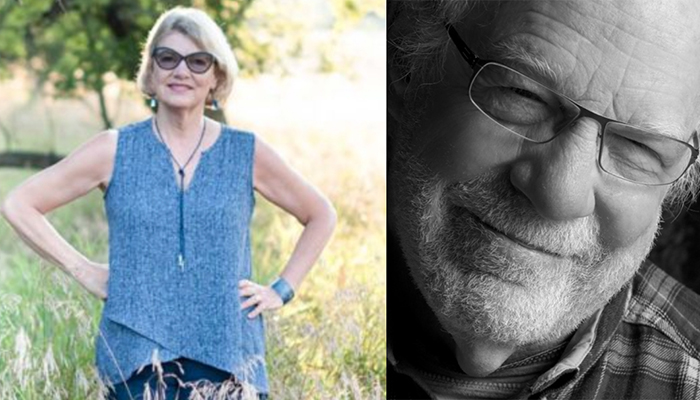 The Hope College Jack Ridl Visiting Writers Series will conclude its 40th-anniversary season with series co-founder Jack Ridl in conversation with award-winning memoirist Anne-Marie Oomen on Wednesday, March 29, at 7 p.m. at Herrick District Library.
Cake and cookies will also be served in celebration of the series' four decades, and a Q&A and book signing will follow. The public is invited, and admission is free.
Oomen's memoir, "As Long As I Know You: the Mom Book," vividly depicts a daughter's troubled relationship with and experiences caring for her elderly mother dealing with dementia prior to and during the COVID-19 pandemic. This compelling true story offers a keen look into family dynamics and morphing relationships, elder care, and grief and bereavement during the pandemic.
"As Long As I Know You: The Mom Book" was selected by New York Times bestseller Aimee Nezhukumatathil for the Sue William Silverman Prize in Creative Nonfiction. Nezhukumatathil hailed the memoir as one of "brave intimacy… Laced into these exquisite sentences is a lesson for us all on how to honor a life."
Oomen is the author, editor, or co-collaborator of 14 memoirs, collected essays, volumes of poetry, anthologies and plays, and is a sought-after speaker and writer. She is the founding editor of Dunes Review and former president of Michigan Writers, Inc., and serves as instructor at Solstice MFA in Creative Writing at Lasell University and at Interlochen College of Creative Arts. She and her husband, David Early, built their own home on wild acreage near Empire, Michigan, and their beloved Lake Michigan.
Ridl retired from the Hope faculty in 2006 as a professor emeritus of English after teaching at the college since 1971. He is a multi-award winning poet and teacher who has published several collections of poetry and hundreds of poems in journals and anthologies.
He and his wife, Julie, established the Visiting Writers Series in 1982. Many of the writers who have visited through the series across the past 40 years have gone on to win Pulitzer Prizes, National Book Awards, MacArthur "Genius" Awards and other honors.
The series was renamed for Ridl in the fall of 2006 in honor of his dedication, vision and service to writing at Hope and in the local community. More information, including an interview with Ridl about the series, is available at hope.edu/jrvws
The March 29 event is being presented in collaboration with Herrick District Library, and co-sponsored by Hope College's Women's and Gender Studies Program, and English, nursing, psychology, and sociology and social work, and English departments.
Herrick District Library is located at 300 S. River Ave., between 12th and 13th streets.