De Pree Art Gallery
Lo Que Grita Mi Piel
("That Which My Skin Screams")
September 15–October 15, 2020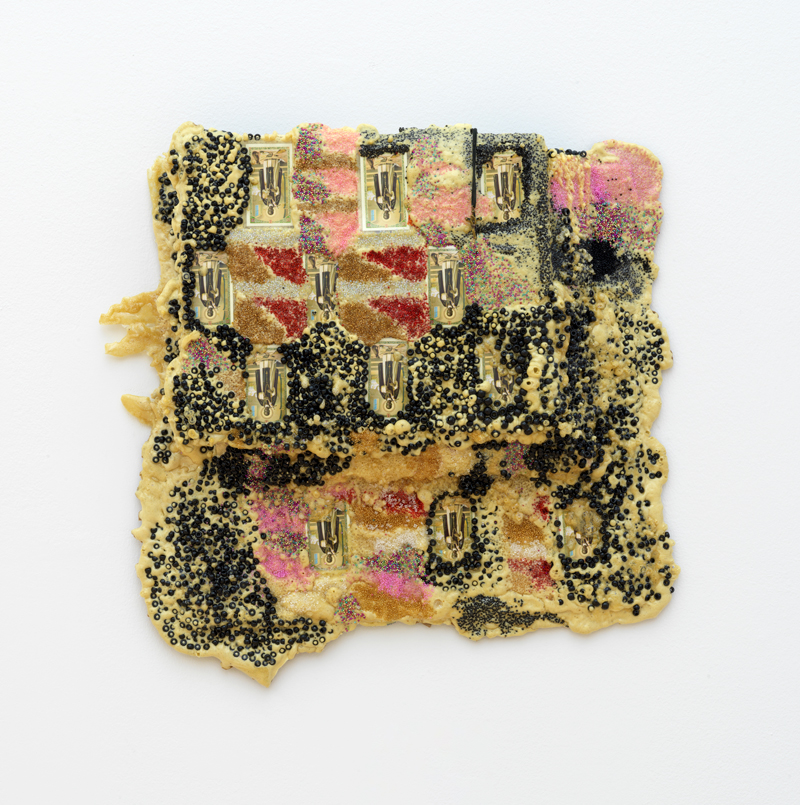 Luis Sahagun's exhibit confronts the palpable inescapability of race and transforms art into an act of cultural reclamation through alternative Latinx narratives.
La exhibición de Luis Sahagun confronta la ineludible palpabilidad de la inequidad racial y transforma el arte en un acto de recuperación cultural a través de narrativas latinx.
Virtual Artist's Talk
About Luis Sahagun

Luis Sahagun was born in Guadalajara, Jalisco, Mexico in 1982. His grandfather came to the United States in the 1940s under the Bracero Program, working in Chicago Height's steel industry. Sahagun's father found field work in the late 1970s, and Luis was brought to this country in 1985, living undocumented until he was naturalized in 1995 under Ronald Reagan's Immigration Reform and Control Act of 1986. Sahagun, a 2001 graduate of Chicago Height's Bloom High School, earned his BFA from Southern Illinois University in 2006 and his MFA in painting from Northern Illinois University in 2015. He has participated in multiple solo, juried, invitational and national exhibits in the U.S and Mexico. In addition to being featured in New American Paintings (Issue #111), Luis' work has also been showcased at the International Exposition of Contemporary Art (expo) Chicago, the Museum of Contemporary Art Chicago, Chicago Cultural Center, and the National Museum of Mexican Art in Chicago. Sahagun has worked as a teaching artist for the School of the Art Institute of Chicago, Chicago Public Schools, the Smart Museum of Art, and the Museum of Contemporary Art in Chicago. He is currently an Artist-in-Residence/Visiting Professor for Critical Race Studies in Michigan State University.

Luis Sahagún nació en Guadalajara, Jalisco, México en 1982. Su abuelo llegó a los Estados Unidos en la década de 1940 bajo el Programa Bracero. El padre de Sahagún encontró trabajo de campo a finales de 1970, y Luis fue traído a esta país en 1985 , viviendo sin papeles hasta que se naturalizó en 1995 bajo Ronald Reagan Reforma de la Inmigración y la Ley de Control de 1986. Sahagún, se graduo de la preparatoria Bloom High School en Chicago Heights, obtuvo su BFA en Southern Illinois University en 2006 y su maestria en pintura en Northern Illinois University en 2015. Ha participado en múltiples exposiciones individuales, juradas, invitacionales y nacionales en los Estados Unidos y México. Además de aparecer en New American Paintings (número 111), el trabajo de Luis también se exhibió en la Exposición Internacional de Arte Contemporáneo (expo) Chicago, el Museo de Arte Contemporáneo de Chicago, el Centro Cultural de Chicago y el Museo Nacional de Arte mexicano en Chicago. Sahagun ha trabajado como artista docente para la Escuela del Instituto de Arte de Chicago, las Escuelas Públicas de Chicago, el Museo de Arte Inteligente y el Museo de Arte Contemporáneo de Chicago. Actualmente es un artista en residencia para estudios críticos de raza en la Universidad Estatal de Michigan.
Gallery Hours
Monday–Saturday:
10 a.m.–5 p.m.
Sunday: 1–5 p.m.
The gallery is handicapped accessible. Admission is free.
De Pree Art Gallery
De Pree Art Center275 Columbia AvenueHolland, MI 49423
workP. 616.395.7500
art@hope.edu