Education Department
Off-Campus Opportunities
Studying in another part of the world or country can be a valuable part of your academic journey, and an instrumental experience in further studying human behavior and communication within different cultural contexts.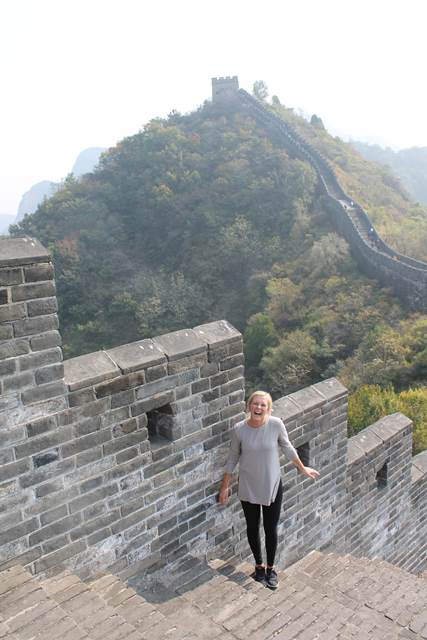 Education department faculty members encourage students to, when possible, enhance their learning through participation in off-campus programs. Here are some things to consider as an education major as you plan your off-campus study experience:
Level-one teacher education courses will need to be completed before studying off campus.
Second semester sophomore year or first semester junior year are the ideal times to study off campus. To do this, you should meet with an education professor early in your freshman year.
The elementary program is tight and has minimal flexibility, so off campus studies often best fit during May, June and July terms. Spanish majors will be required to study one semester off campus. The secondary education program is also tight, but offers greater flexibility in selection of courses to meet General Education requirements. Secondary students planning to study off campus for a semester should save at least two general education courses to take while they are off campus.
Please meet with an education professor as early as possible to work out a plan that might include off campus study.
Student teaching
To receive your teacher certification, you'll conclude your time at Hope with a semester of student teaching. Teacher Candidates who desire a unique student teaching experience may want to consider a placement in an off-campus setting. A number of options are currently available through officially recognized programs at Hope. Some limited, "unofficial" opportunities may also be considered on an individual basis. Hope's Education Department has already established programs in a number of locations including Chicago, Philadelphia, South Dakota and Denver. We have also established a relationship with Interaction International (CCTECC/STAGE) so that student teachers may opt to student teach in international settings as well. In some additional instances, student teachers may propose distinctive placements in a variety of locations across the United States.
Depending on your specialty, track and record of performance, you may be eligible to complete your student teaching off campus at the following sites or other cities and countries around the world.
Chicago Semester

Denver Semester

Philadelphia Semester

South Dakota Semester on the Rosebud Indian Reservation

Other Off-Campus Student Teaching Requests

International Placements
May and June Terms
May Terms

Rosebud Indian Reservation

Learning the difference between the ghost dance and the sun dance of the Lakota Sioux is good for an increased cultural awareness and for the spirit. When the two are mixed, they define your experience on the Rosebud Indian Reservation, located in south-central South Dakota.

This May term has been an option for the past 25 years, and students love it. The Rosebud Reservation in South Dakota provides an opportunity to learn about the history and culture of the Lakota Sioux as well as work in the Todd County School district or health care settings.

Trips to Wounded Knee, Crazy Horse, Black Hills, Mt. Rushmore, and the Akta Lakota and St. Francis museums provide further information about the Sioux Nation.

The application can be found on the Center for Global Engagement program brochure. For more information please contact Susan Cherup or James Piers.

Hope Comes to Watts

This is a three-week experience in Los Angeles, California, at the Watts Learning Center, an award-winning urban charter school. Your time will include daily classroom experience and additional experiences in the greater Los Angeles area.

The application can be found on the Center for Global Engagement program brochure. Contact Nancy Cook or John Yelding for more information.

June Term

Liverpool

While in Liverpool, you'll reside and board at Liverpool Hope University, a sister college with which Hope has had a long and fruitful relationship. You will teach in British schools and take courses from Hope professors.

The city of Liverpool served as the "2008 Cultural Capital of Europe" and provides many off-campus activities. Additionally, you will take weekend trips to London and Edinburgh, Scotland, which includes an excursion to the Highlands.

The application can be found on the Center for Global Engagement program brochure. If you would like additional information please contact Nancy Kamstra, Laura Pardo or William Moreau.

Up Close and Personal: the African American Civil Rights Movement

This June Term combines classroom study with a road trip throughout the South to visit critical sites in the Civil Rights Movement of the 1950s and 1960s. View the program brochure, and contact John Yelding for additional information.
Post-graduation
After graduation, you can still learn and partner with off-campus organizations that focus on education.
Memphis Teacher Residency Program

The vision of MTR is to use their specific work within education, in partnership with other holistic organizations, to help restore communities so that all individuals can become empowered contributors to their city and people of all races and classes can engage with one another in peace. Check out the MTR program

Youth With A Mission

You can serve with YWAM on an outreach trip, as a student, or as a staff member or volunteer. To join as staff, you must first complete a Discipleship Training School (DTS), which is offered in over 200 locations around the world. YWAM has no centralized application process. Although YWAM does have main offices, we encourage you to contact our field locations directly for details about applying, schedules and costs.

Whatever way you want to serve God, you can most likely do it in YWAM. Being on staff with YWAM is an adventure in faith. Join staff for a couple of years, or stay for life.

Fulbright Scholar

The core Fulbright U.S. Scholar Program provides approximately 800 teaching and/or research grants to U.S. faculty and experienced professionals in a wide variety of academic and professional fields. The competition for academic year 2017–2018 is now open. More information on how to apply can be found on the Crossroads website.
Education Department
Van Zoeren Hall41 Graves PlaceRoom 288Holland, MI 49423
workP. 616.395.7740
education@hope.edu