DeWitt Student & Cultural Center
Building Information
141 East 12th Street
Holland
,
MI
49423-3607
DeWitt Student and Cultural Center serves as Hope College's student, administrative and theater center. Originally built in 1971, the facility was expanded in 1983 to provide space for college administration after Van Raalte Hall was destroyed by a fire in 1980.
The lower level of the building holds the Hope-Geneva Bookstore, Cool Beans coffeeshop and The Kletz, a gathering place for students to grab meals on the go, do homework or simply meet with friends.
The Student Activities Committee, Student Congress and several other student groups are headquartered in DeWitt Student Center. The Counseling and Psychological Services office, located on the first floor, provides students with help attaining physical, emotional and spiritual health and is free of charge to all degree-seeking students.
The Department of Theater performs productions for the student body and Holland community in the DeWitt theater, which also serves as a stage for shows put on by the Hope Summer Repertory Theatre program. The building's main theater and backstage area were remodeled during the 1996–97 school year.
DeWitt Student and Cultural Center was named for Dick and Jack DeWitt, the principal donors for the building.
See upcoming events scheduled at the DeWitt Student and Cultural Center
Hope in Indianapolis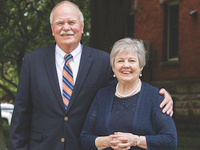 Gather with alumni, families and friends of Hope as you enjoy a strolling dinner and hear from President Dennis Voskuil.
Hope in Indianapolis
Date

Cost

$20

Location

Bridgewater Club
Hope in Indianapolis
5:30 pm - Bridgewater Club