Keppel House
Building Information
Phone Number616.395.7145
Monday–Friday

8 a.m.–5 p.m.
129 East 10th Street
Holland
,
MI
49423
The Keppel House is the home to the Campus Ministries office. The building was constructed in 1914 and was originally known as College Guest House. It was renamed Keppel Guest House in 1989, and Campus Ministries moved in during the summer of 1994. In order to make more room for the Haworth Inn & Conference Center and Cook Residence Hall, the building was relocated to its current location in 1995.
Visit Campus Ministries online
IMAGES: A Reflection of Cultures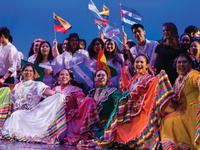 An international showcase and cuisine will provide a sampling of cultural heritage from around the world during Hope College's "IMAGES: A Reflection of Cultures" on Saturday, Nov. 18.
IMAGES: A Reflection of Cultures
Date

Location

Knickerbocker Theatre
IMAGES: A Reflection of Cultures
7:00 pm - Knickerbocker Theatre