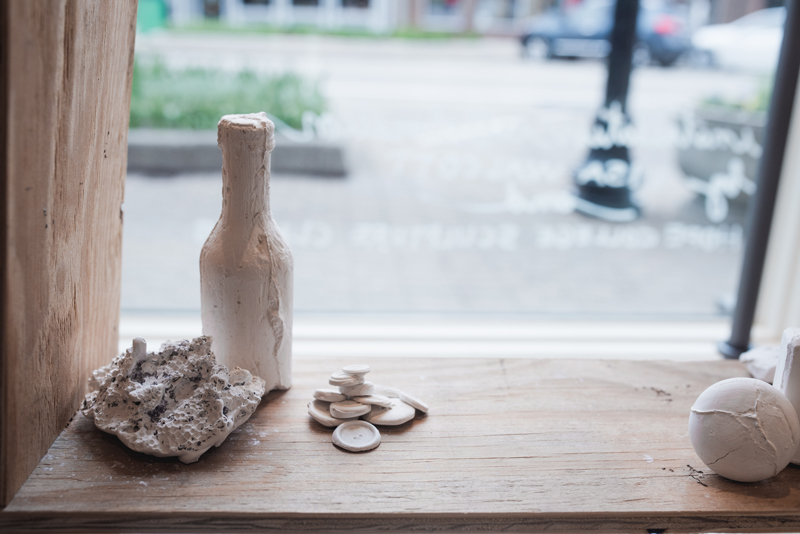 In April 2015, Hope students created plaster pieces and installed them in a window display at Frances Jaye, a downtown boutique.
Professor Lisa Walcott's Sculpture I and Sculpture II classes produced a collection of abstract and casted objects created out of plaster.
Student artwork was critiqued both as an assignment and for inclusion in the window display.
"We were looking for variety," Lisa said. "The project included a set of requirements for multiple processes with plaster: cast a small object, cover or fill something, build intuitively as the material hardens. Some pieces were successful as an interesting piece of art, but were not suitable for the window. We were able to have discussion about how work is read by the viewer and how location and proximity to other works changes the pieces."
The Sculpture II class installed the pieces in the windows as a lesson in display. The end result — a collection of small and abstract plaster objects — was arranged to incorporate a dress form, making sure it was still about the clothing as well as the artwork.
In the third window, Lisa installed a kinetic sculpture of her own to accompany the work. Her piece added to what she called "the ghostly feel" of the entire installation.

"We've had interest from other businesses, too," Lisa said. "There's potential to do some sort of business display series and really build a personal connection between the downtown business and the class while giving space for artwork to be seen."