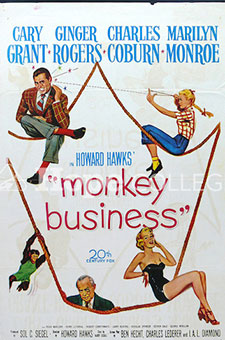 The Knickerbocker Theatre at Hope College will show four films featuring Marilyn Monroe during its "One Night Only" series every Monday from August 1 through August 22 at 7:30 p.m.
The series will open on Monday, Aug. 1, with "Monkey Business," the 1952 comedy starring Monroe with Cary Grant, Ginger Rogers and Charles Coburn. Grant plays Dr. Barnaby Fulton, a chemist who has been working on a youth-restoring serum with little success—until the day a chimpanzee gets loose and concocts the perfect potion. The fun begins when the chimpanzee pours the potion into the water cooler and everyone who drinks it gets younger with every sip. When Fulton's stunning secretary and lovely wife get a taste of the potion, the chemical reaction is explosive.
"There's No Business Like Show Business" will be featured next on Monday, Aug. 8. The all-star cast, featuring Ethel Merman, Monroe and Donald O'Connor, sparks a tuneful Irving Berlin musical that depicts the trials and triumphs of a veteran vaudeville family. The Five Donahues have plenty of love to get them through the hard times and more than enough talent to keep them on top, but when their son Tim meets hat-check girl Vicky, the family act begins to fall apart.
The series will continue on Monday, Aug. 15, with "Seven Year Itch," starring Monroe, Tom Ewell and Evelyn Keyes. The 1955 romantic comedy features Richard Sherman, a Manhattan businessman who sends his wife and son off to summer vacation. When lonely Sherman begins to fantasize about the women he foreswore upon getting married, he is jolted back to reality when he meets his new neighbor, played by Monroe. Sherman's clumsiness and Monroe's naiveté take audiences on a comedic journey of how an ordinary man deals with irresistible temptation after seven years of marriage.
The series will finish with "Some Like It Hot" on Monday, Aug. 22. This 1959 comedy, starring Marilyn Monroe, Tony Curtis and Jack Lemmon, is about two struggling musicians who witness the 1929 St. Valentine's Day Massacre and go on the run from the mob. The two go into hiding by cross-dressing into an all-female band, but complications arise when one falls for another band member who does not know his gender and the other attracts a rich suitor who will not take "no" for an answer. The film is rated G.
Tickets are $5. Tickets will be sold at the door but are also available in advance at the Events and Conferences Office located downtown in the Anderson-Werkman Financial Center (100 E. Eighth St.). The office is open weekdays from 9 a.m. to 5 p.m. and can be called at (616) 395-7890.
The Knickerbocker Theatre is located in downtown Holland at 86 E. Eighth St.