The Hope College Alumni Association will honor two alumni during the annual Alumni Banquet on Saturday, April 30.
The association will present Distinguished Alumni Awards to Dr. Tim Laman, a 1983 graduate from Lexington, Massachusetts, a field biologist and wildlife photojournalist who is a regular contributor to National Geographic; and Dr. Thomas Nowotny, a 1959 graduate from Vienna, Austria, who is retired from a career as a diplomat and educator.
The annual Distinguished Alumni Awards are presented by the Alumni Association Board of Directors in recognition of the awardees' contributions across decades to society and service to Hope. The award, inaugurated in 1970 and presented during the college's Alumni Banquet, is the highest honor that alumni can receive from Hope's Alumni Association.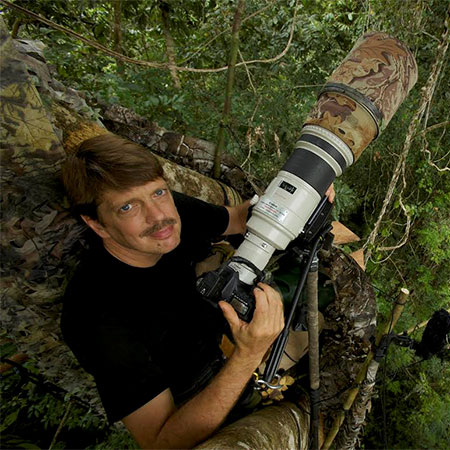 Laman is a freelance photographer and writer on natural history as well as a research associate in the Ornithology Department at Harvard University. He has been a regular contributor to National Geographic, with a focus on conservation and endangered species, since earning his doctorate from Harvard in 1994. His work takes him around the world, with his major emphasis being the Asia-Pacific region.
In addition to 21 feature stories on a variety of topics in "National Geographic" through the years, he has been the photographer or author and photographer of 29 articles in publications ranging from National Wildlife to Ranger Rick to BBC Wildlife to Atlas (Turkey) to GEO (Germany and France) to Terre Sauvage (France). His four books include the landmark "Birds of Paradise: Revealing the World's Most Extraordinary Birds," a chronicle of his multi-year effort, with ornithologist Dr. Edwin Scholes, to document all 39 species of New Guinea's colorful "Birds of Paradise" for the first time; and the children's book "Face to Face with Orangutans," which he co-authored with his wife Dr. Cheryl Knott, who is an anthropologist on the Boston University faculty. He has also co-authored 20 scientific articles, including four based on research that he conducted with faculty while a biology major at Hope.
His photography has garnered numerous awards, including the highest honor of the North American Natural Photography Association in 2009: the group's annual "Outstanding Nature Photographer" Award. Eleven of his images have won recognition in the world's top wildlife photography competition, the "Wildlife Photographer of the Year" awards, and he has won several prizes in the Nature's Best International Photography awards, including first place in the birds and underwater categories. His images have also appeared in National Geographic's "100 Best Photos" and "100 Best Wildlife Photos" special publications.
Laman has had solo exhibits of his photography featured in France, Japan, the Philippines and multiple cities in the United States, and has delivered more than 50 invited lectures around the world. He has also received numerous external grants in support of his research, exploration and conservation work, including nine from the National Geographic Society or National Geographic Expeditions Council. Other honors include an Outstanding Teaching Fellow Award from Harvard.
Laman returned to Hope in 2004 to speak in conjunction with the opening celebration of the college's A. Paul Schaap Science Center, and in 2013 to present an illustrated lecture about the "Birds of Paradise" project—the latter to a capacity audience in the DeWitt Center main theatre.
He is the son of the Rev. Dr. Gordon Laman, a 1956 Hope graduate, and the late Evon (Southland) Laman, a 1957 Hope graduate; and his sister Lisa and brother Greg graduated in 1988 and 1993 respectively. He and Cheryl have two children at home.
Nowotny was a career Austrian diplomat whose service included heading the Foreign Ministry's department for political planning ("Grundsatzabteilung") for 10 years between 1983 and 1993. Prior to that, he had been Austrian Consul General in New York and Counselor at the Austrian Embassy in Cairo.
In addition, for five years, from 1970 to 1975, he was private secretary to Austrian Chancellor Bruno Kreisky; from 1997 to 2000 he was senior political counselor to the European Bank for Reconstruction and Development; and from 1993 to 1996 he was consultant to the OECD (Organization for Economic Co-operation and Development). In the time between 2000 and 2009, he served as consultant to the major Austrian promotional and development bank AWS (at last in a posting in Washington, D.C., with emphasis on cooperation with the Washington-based IFIs).
During and following his diplomatic career, Nowotny taught political science for several years at the University of Vienna, from which he received an "excellence in teaching" award. Although he retired from teaching in 2013, he continues to tutor students writing their master's theses under his supervision.
He is author of numerous articles and of several books. His last major books are "Strawberries in Winter: On Global Trends and Global Governance" and "Diplomacy and Global Governance: The Diplomatic Service in an Age of World-wide Interdependence."
Nowotny is also currently president of the Austrian Chapter of the Society for International Development, and a member of the International Studies Association and the Austrian Political Science Association. His professional activities have also included being a member of the scientific advisory board of the Institute for International Economic Studies (WIIW); a Board that supports the work of the International Institute for Applied Systems Analysis – IIASA; and of the scientific advisory board of Vienna-based Austrian Institute for International Studies (ÖIIP); and a fellow of the Aspen Institute, of the Rockefeller Bellagio Center and of the Salzburg Seminar on Global Studies.
He attended Hope through a Fulbright award, graduating with a major in American studies. He subsequently completed a doctorate in law in 1960 in addition to conducting post-graduate studies in Paris, France.
His wife, Eva, is a former Austrian ambassador to the United States who in retirement serves as chairperson of the Board of Trustees of the University of Vienna and as president of the Austrian UNESCO Commission. Their involvement with Hope through the years has ranged from delivering lectures at the college, to participating in alumni events, to hosting an alumni gathering at their home in Vienna. They have a daughter and two grandchildren.
The banquet will take place at 6 p.m. in the Phelps Hall dining hall. More information about the banquet and other Alumni Weekend events is available online at hope.edu/alumniweekend.