A new exhibition opening at the Hope College Kruizenga Art Museum on Tuesday, Aug. 29, will explore the exciting innovations that occurred in Japanese art during the Meiji period (1868-1912) and reveal how art contributed to the larger political, social and economic changes that transformed Japan into a modern world power at that time.
"From Beyond the Stars: Innovation and Inspiration in Meiji Japanese Art," which will be on view through Saturday, Dec. 16, will include 66 works of art spanning a wide range of media, from paintings, prints and photographs to ceramics, cloisonné, bronzes and textiles. "Drawn from the Kruizenga Art Museum collection and a consortium of private collections in California, the works in the exhibition illustrate a commitment to high-quality craftsmanship and a willingness to adapt to consumer demands that are still hallmarks of Japanese art and industry today," said Charles Mason, director of the Kruizenga Art Museum.
Mason noted that during the Meiji period, nearly every genre of Japanese art was transformed by new materials, techniques, forms and designs.
"The introduction of oil painting, photography and aniline dyes dramatically altered Japanese visual art during the Meiji period," said Mason, who is also the Margaret Feldmann Kruizenga Curator of the museum. "In the decorative arts, new glazes and enamel colors imported from Europe helped ceramics and cloisonné move in fresh directions. Metalsmiths who earlier had made sculptures mainly for Buddhist temples and weapons for the samurai class now made works of art aimed at more secular, commercial markets."
Mason further explains that art's impact extended into many different aspects of Japanese life during the Meiji period. "Politically, the Meiji government used art to strengthen the country's sense of national identity and to promote its various modernization campaigns. Socially, art-making offered steady employment and gave thousands of people a sense of purpose and vocation at a time when Japan's traditional class structure was undergoing dramatic changes. Economically, selling Meiji art generated crucial revenues that were needed for the country's acquisition of foreign technologies and expertise. And finally, Meiji art expanded Japan's cultural horizons and set the stage for many of the new developments that occurred in Japanese art later in the 20th century."
But "Beyond the Stars" offers more than just a history lesson about Japanese art. Mason argues that the exhibition offers insights that are relevant to American culture today. "The Meiji government realized that supporting art offered tangible returns by giving its citizens common cultural reference points, providing jobs and generating economic activity," he said. "The Meiji example shows that government support for art can have positive effects that ripple outward in many different directions."
The exhibition has been organized by the Kruizenga Art Museum in collaboration with WorldBridge Art Inc., a cultural non-profit organization in Upland, California, that is dedicated to promoting cross cultural education through the arts. Two Hope College students, Mason Hunt (2018) and Madeleine Zimmerman (2020), helped research, design and write interpretive material for the exhibition. "From Beyond the Stars" will be accompanied by a 116-page, fully illustrated digital catalog that can be downloaded for free or printed on demand for a fee. Independent curator and scholar Joe Earle will give a lecture in connection with the exhibition on Friday, Sept. 8, at 4 p.m. Please check the museum's website hope.edu/kam or social media for additional information about special programs and events related to this exhibition.
Admission to the Kruizenga Art Museum is always free. Public visiting hours are Tuesdays through Saturdays from 10 a.m. to 4 p.m.
The museum functions as an educational resource for Hope College and the greater West Michigan community. The museum features two public galleries as well as a classroom and climate-controlled storage space for its 3,000-object permanent collection. It is named in honor of a leadership gift from Dr. Richard and the late Margaret Kruizenga of Holland, both of whom graduated from Hope in 1952.
The Kruizenga Art Museum is located at 271 Columbia Ave., between 10th and 13th streets.
Image captions: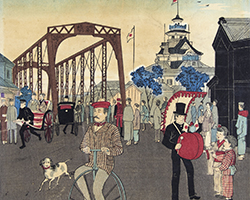 Azuma Restaurant (detail)
Yasuji Inoue (Japanese, 1864-1889
1888
Woodblock print triptych
Purchased with funds donated by Ronald '62 and Geri Vander Molen, 2016.31.1A-C
Hair Dressing
Kukasabe Kimbei (Japanese, 1841-1934)
Late 19th century
Hand-tinted albumen print
Gift of David Kamansky and Gerald Wheaton, 2014.23.268.19A
Phoenix Vase
Miyagawa Kozan (Japanese, 1842-1916)
Ca. 1870s
Glazed earthenware, enamels, gilding
Gift of Jeffrey and Juli Adelman, selected from the Ghosn Family Art Collection and WorldBridge Art, Inc., 2013.6.2
Censer with Foliage Design
Attributed to Kawade Shibetaro (Japanese, 1856-1921)
Early 20th century
Copper, silver, enamels
Loan from WorldBridge Partners, E018