The Knickerbocker Theatre at Hope College will show four films featuring a Western theme during its "One Night Only" series on Mondays from April 3 to April 24 at 7:30 p.m.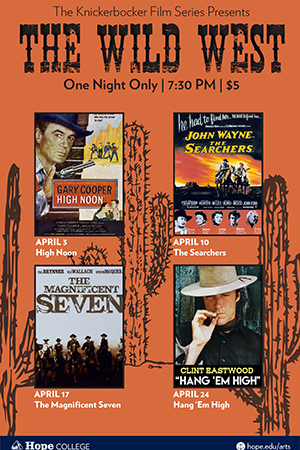 The series will open with the 1952 film "High Noon" on Monday, April 3. Winner of four Academy and four Golden Globe awards, the film was selected for preservation in the United States National Film Registry by the Library of Congress when the Registry was created in 1989. The film stars Gary Cooper and Grace Kelly and features a number of other famous actors including Lloyd Bridges, Otto Kruger, Lou Chaney Jr., Thomas Mitchell, Harry Morgan and, in his film debut, Lee Van Cleef. Cooper plays Will Kane, a marshal who is about to leave town for a new life with his Quaker wife when he is notified that the notorious gang leader, Frank Miller, is returning to town to seek revenge. Torn between his duty to his town and his wife, he faces the notorious gang leader alone without the support of either his town or bride. The film is often seen as a turning point in Westerns as it examines morally ambiguous situations.
"The Searchers" will be featured next on Monday, April 10. The 1956 John Ford-directed film was named by the American Film Institute as the best Western film of all time. It features John Wayne, not as the all-American good guy, but as a flawed hero, Ethan Edwards, struggling with his own emotions as he leads a group on a dangerous journey to recapture a young woman from a Comanche tribe. In the end, the hunt lasts nearly five years and ends in a dramatic fashion. Although he searches at first with a large group of men, in the end it is Edwards and his nephew Martin Pawley (Jeffrey Hunter) who determine the fate of the captured Debbie (Natalie Wood). The all-star cast also features Vera Miles, Ward Bond and Harry Carey Jr. The opening and closing shots of the film, framed in a doorway, are often considered the best opening and closing shots for a film.
The series will continue on Monday, April 17, with the original 1960 film "The Magnificent Seven," starring Yul Brynner, Eli Wallach, Horst Buchholz, James Coburn, Brad Dexter, Steve McQueen, Robert Vaughn and Charles Bronson. The film score, by Elmer Bernstein, was nominated for an Academy Award. The film centers on a small, poor Mexican farming village that is tormented each year by a group of bandits. However, this year the village recruits seven gunmen to save them from the bandits. Gunmen and villagers unite to fight against the bandits, run by Calvera (Eli Wallach), and run them out of the village once and for all. Although it is the original Western version of the film (remade in 2016), the film is actually a remake of Akira Kurosawa's 1954 Japanese film "Seven Samurai."
The series will finish with the 1968 film "Hang 'Em High" on Monday April 24. An innocent man, Jed Cooper (Clint Eastwood), is lynched and left for dead after being accused of cattle rustling and murder. Marshal Dave Bliss (Ben Johnson) saves Cooper and gives him a trial with Judge Adam Fenton (Pat Hingle). Cooper's innocence is proven and he is given a job as a marshal. Instead of seeking revenge, Cooper seeks to bring the men who lynched him to justice and pay for their crimes. A critical and commercial success, the film was United Artists' biggest opening ever, including all of the James Bond films the company had already released.
Tickets are $5. Tickets will be sold at the door but are also available in advance at the Events and Conferences Office located downtown in the Anderson-Werkman Financial Center (100 E. Eighth St.). The office is open weekdays from 9 a.m. to 5 p.m. and can be called at (616) 395-7890.
The Knickerbocker Theatre is located in downtown Holland at 86 E. Eighth St.