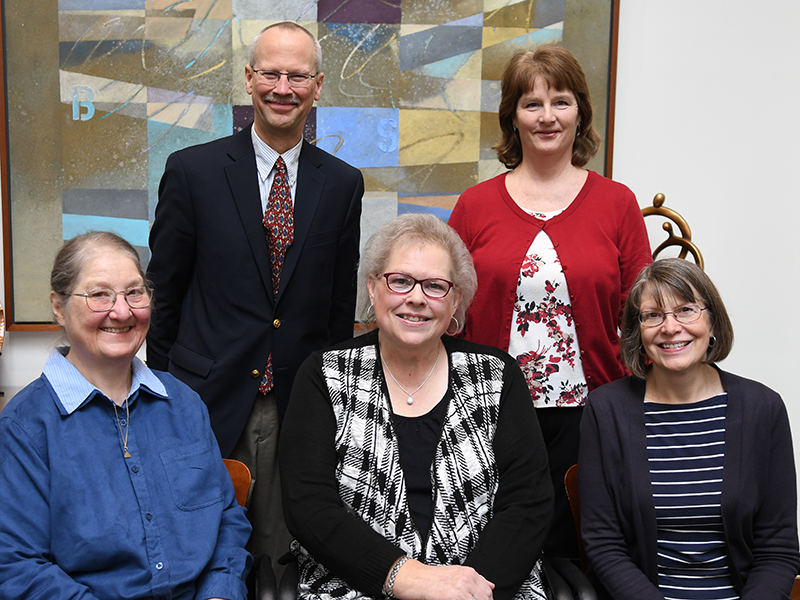 Hope honored 54 staff members during the annual Service Award Luncheon on Friday, Feb. 3, including those with five-year service anniversaries through 45 years and recent retirees. Pictured from among the long-time employees celebrating service anniversaries are: at left in the front row, Dawn Van Ark (Van Wylen Library, 45 years); and, back row, Dale Austin (Career Development Center, 35 years) and Elizabeth Bocks (Career Development Center, 30 years). Pictured at the center and right of the front row are retirees Sandy Tasma (Development and Alumni Engagement, 43 years) and Sarah Anderson (Hope-Geneva Bookstore, 38 years).
Hope College staff members were recognized for service during the college's annual service award luncheon, held on Friday, Feb. 3, at the Haworth Inn and Conference Center.
The event honors retirees and the past year and celebrates five-year service anniversaries starting at the fifth year.
Honored as retirees were:
Sarah Anderson, Hope-Geneva Bookstore, 38 years
Alfredo Gonzales, Office of the Dean for Multicultural and International Education, 37 years
Bill Large, Physical Plant, 12 years
Paula Shaughnessy, Hope-Geneva Bookstore, 34 years
Sandy Tasma, Development and Alumni Engagement, 43 years
The five-year service anniversaries extended to 45 years:
45 years

40 years

35 years

30 years

25 years

20 years

15 years

10 years

5 years