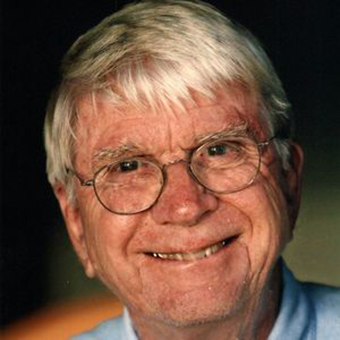 Emeritus professor Dr. James Dyke van Putten Jr., who as a longtime member of the physics faculty helped launch Hope's engineering program, died on Tuesday, Oct. 2, 2018. He was 84.
A 1955 Hope graduate, van Putten taught at the college from 1967 until retiring in 2000.
Although Hope had offered "Mechanical Drawing/Engineering Drawing" through the Department of Mathematics for several years beginning in the 1940s, engineering instruction in the contemporary sense began at Hope in 1979 through the Department of Physics in response to student interest. van Putten played a leadership role throughout the program's development, from first teaching a new course in electronics, through growth that included the addition of colleagues in engineering, Hope's creation of an engineering physics major in 1989 and an engineering major in 1997, and the program's successful bid in 2000 to receive accreditation from the Engineering Accreditation Commission of ABET. Engineering became a stand-alone department in 2006, and today is housed in the college's Haworth Engineering Center, which opened in 2013.
After graduating from Hope, van Putten received his master's and doctorate from the University of Michigan, in 1957 and 1960 respectively. After teaching at the University of Michigan for a year, he was a NATO Fellow with the European Organization for Nuclear Research in Geneva, Switzerland, for a year and was an assistant professor of physics at the California Institute of Technology in Pasadena for five years.
Upon joining the Hope faculty, he was instrumental in establishing the college's Van de Graaff accelerator laboratory on the ground level of VanderWerf Hall. The instrument remained in service until 2004, when it was succeeded by a Pelletron particle accelerator and attached microprobe facility for materials analysis.
In the 1970s, van Putten founded Macatawa Computer Services. He was also the first president of the board for Black River Public School, a charter school that he and others in the community co-founded in 1996.
He was the son of Dr. James Dyke van Putten and Frieda (Gunneman) van Putten, both of whom were members of the college's Class of 1922. He had been not only a generational student but also a generational professor at Hope: His father was a member of the political science faculty from 1952 until retiring in 1969. His father had set up the college's political science program and had been the first president of the West Ottawa School Board.
Survivors include his wife, Sharon (Sheffield) van Putten; sons, James D. van Putten III '85 (Susan Fox) and Dirk van Putten '88 (Carey VandePoel); and three granddaughters. He was preceded in death by his parents and by a sister, Barbara van Putten '57.
There will be a time of visitation and remembrance on Sunday, Oct. 21, from 1 p.m. to 4 p.m. in the Fairbanks Room at New Holland Brewing, located at 66 East Eighth St., at the corner of Eighth Street and College Avenue. Memorial contributions are to Hospice of Holland.
The family is being served by the Langeland-Sterenberg Funeral Home, which online has shared additional details about his life. A celebration of his life will be held at a later time.