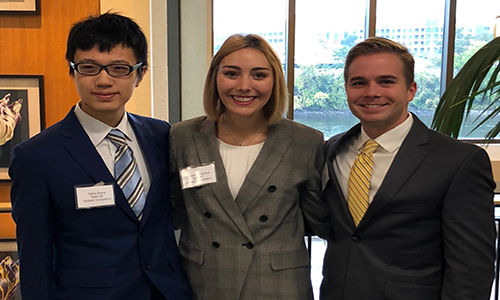 A three-student team from Hope College has won the 2018 intercollegiate Commercial Lending Case Competition, held at Grand Valley State University on Saturday, Oct. 27.
The winning team consisted of junior business major Danielle Gortsema of Hudsonville, senior business and economics major Christian Rhoades of Holland, and senior economics and mathematics major Yizhe Zhang of Shanghai, China, who together received the event's $3,000 grand prize.
Hope fielded two teams, with the other consisting of senior business major Matt Ammerman of Fenton, junior economics Quincey Glupker of Grandville and junior economics major Nicholas Schanhals of North Muskegon. In addition to Hope, the participating colleges and universities were Calvin College, Central Michigan University, Ferris State University, Grand Valley State University and Western Michigan University.
The participating students were presented in advance a sample case to analyze as if they were with a bank asked to make a loan to a business. Providing students with the opportunity to participate in real-world experiences that are not generally available in the classroom, the competition included a full day of written and oral presentations, coupled with networking with banking and finance executives. The six Hope students began preparing early in the fall semester, receiving training from two different commercial lenders as well as from a variety of accounting, communication and finance professors from Hope, and analyzing the case, developing PowerPoint presentations and practicing oral presentations.