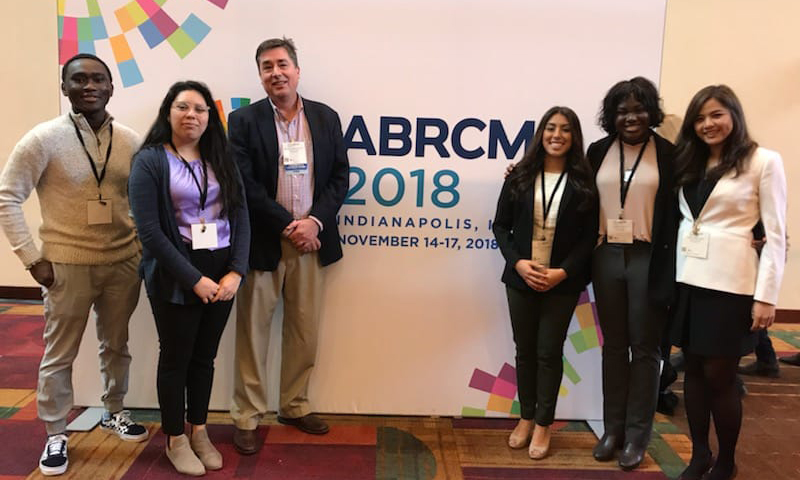 Hope College senior Clare Da Silva of Danville, California, received a poster-presentation award during this year's Annual Biomedical Research Conference for Minority Students (ABRCMS), held in Indianapolis, Indiana, on Wednesday-Sunday, Nov. 14-18.
She was recognized for her work titled "Impact of Neuronal Damage on Herpes Simplex Type I Reactivation: An in vitro Model." She conducted the research in the laboratory of Dr. Gerald Griffin, associate professor of biology and psychology.
A total of five Hope seniors presented their research during the event. Derrick Obiri-Yeboah of Kumasi, Ghana, Leslie Perez of Arlington, Texas, Anne Sangliana of Battle Creek, and Marissa Solorzano of Holland as well as Da Silva gave poster presentations and participated in professional development, post-college opportunities and networking.
First held in 2001, the ABRCMS was founded to encourage minority, first-generation, veteran and disabled students to pursue higher education in STEM (science, technology, engineering and mathematics) fields, and today is one of the largest professional conferences for underrepresented students. This year, more than 2,000 students from more than 350 colleges and universities representing 12 STEM disciplines participated.
The ABRCMS is managed by the American Society for Microbiology (ASM). The ASM is the largest single life-science society, composed of more than 30,000 scientists and health professionals. ASM's mission is to promote and advance the microbial sciences.