A new exhibition opening at the Hope College Kruizenga Art Museum on Friday, Jan. 12, will showcase form and message across half a millennium of European and American printmaking.
The public is invited. Admission is free.
"Culture, Commerce and Criticism: 500 Years of European and American Prints from the Kruizenga Art Museum Collection" explores how artists in Western culture have used prints over the past five centuries as vehicles to transmit knowledge, generate income and critique current events. The exhibition features 50 works of art ranging in date from the early 1500s to the early 2000s and includes works by many notable artists, including Albrecht Durer, Rembrandt van Rijn, William Hogarth, Francisco Goya, James McNeil Whistler, Kathe Kollwitz, Salvador Dali, Helen Frankenthaler, Barbara Kruger and Kara Walker.
"Prints emerged as a major art form in Europe in the late 15th century, following new developments in the related crafts of book printing, paper making and metal engraving," said Charles Mason, who is the director and the Margaret Feldmann Kruizenga Curator of the Kruizenga Art Museum. "Since then, artists have developed a broad range of printing techniques that offer different mechanical advantages and allow the artists to achieve different aesthetic effects."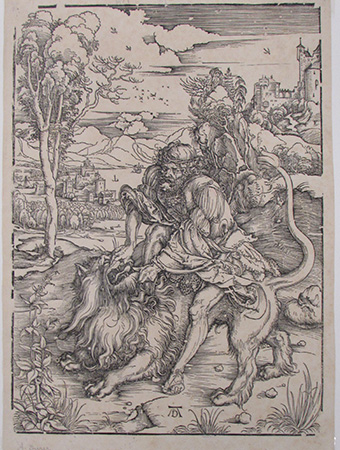 Mason noted that most printing techniques fall into one of three major categories: relief, with the printed image standing above the printing surface, such as woodcuts; intaglio, with the printed image cut into the printing surface, such as engravings and etchings; and planographic, with the printed image level with the printing surface, such as lithography and screen printing.
"All three major print categories are represented in this exhibition," he said. "The display is arranged chronologically and aims to demonstrate how artists through time have conceived of prints variously, and sometimes simultaneously, as vehicles to transmit knowledge, as commercial products to generate income, and as platforms to comment on political, social and cultural issues."
The content and presentation of the exhibition was developed in collaboration with Dr. Anne Heath, who is an associate professor of art history and the director of the college's Mellon Scholars Program, and the students in her Art 361 seminar.
There will be a reception for "Culture, Commerce and Criticism" on Friday, March 9, from 5 p.m. to 7 p.m. The reception will be held in conjunction with the De Pree Art Center and Gallery, which will be hosting the exhibition "PRINTS: Making," focusing on the technique behind the practice. The exhibition will continue through Saturday, May 19.
Admission to the Kruizenga Art Museum is always free. Public visiting hours are Tuesdays through Saturdays from 10 a.m. to 4 p.m. Please check the museum's website or social media for additional information about special programs and events related to "Culture, Commerce and Criticism."
The museum functions as an educational resource for Hope College and the greater West Michigan community. The museum features two public galleries as well as a classroom and climate-controlled storage space for its 4,500-object permanent collection. It is named in honor of a leadership gift from Dr. Richard and the late Margaret Kruizenga of Holland, both of whom graduated from Hope in 1952.
The Kruizenga Art Museum is located at 271 Columbia Ave., between 10th and 13th streets.