This year 110 incoming new Hope College students have alumni generational ties. If the information is incomplete or if we have missed someone, please send an email to alumni@hope.edu.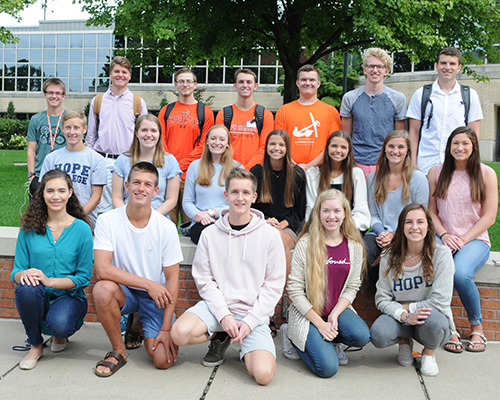 Pictured are several of the third-, fourth- and fifth-generational new students:
Row 1: Mary Kamara-Hagemeyer (third), Brennan Hendrickson (third), Seth Piersma (third), Danielle VanIwaarden (third), Hannah Lindstrom (fourth); Row 2: Evan Bleitz (fourth), Amy Osterbaan (third), Rachel Hubbert (third), Emma Cole (fifth), Anna Cole (fifth), Gabi Chandler (third), Alyssa Potyraj (fourth); Row 3: Gray Vandervelde (third), Mitch Galer (third), Joshua VanDeHoef (third), Nathan Willit (fourth), Joseph Kordenbrock (third), Gerrit Wiegerink (fourth), Connor Evenhouse (fourth).

Fifth Generation


Emma Cole (Ada, Michigan)
Mother - Margaret VerMeulen '93 Cole
Grandmother - Carol Lamberts '67 VerMeulen
Grandfather - John Ver Meulen '65
Great-Grandfather - Victor Ver Meulen '30
Great-Great-Grandfather - John Ver Meulen 1894
Anna Cole (Ada, Michigan)
Mother - Margaret VerMeulen '93 Cole
Grandmother - Carol Lamberts '67 VerMeulen
Grandfather - John Ver Meulen '65
Great-Grandfather - Victor Ver Meulen '30
Great-Great-Grandfather - John Ver Meulen 1894
Fourth Generation


Evan Bleitz (Milan, Michigan)
Mother - Joy Portinga '89 Bleitz
Father - Dan Bleitz '89
Grandmother - Judy Kollen '64 Portinga
Grandfather - David Portinga '59
Great-Grandmother - Clarissa Gunn'34
Abigail Dieffenbach (Grand Rapids, Michigan)
Mother - Brenda Hoffman '89 Dieffenbach
Father - Timothy Dieffenbach '84
Grandmother - Carol DeVries '57 Hoffman
Grandfather - Vernon Hoffman '56
Great-Grandfather - Justin Hoffman 1922
Connor Evenhouse (Minocqua, Wisconsin)
Mother - Heather Bolks '88 Evenhouse
Grandfather - Erv Bolts '64
Great-Grandmother - Anna Hoekje 1911 Maatman
Mason Kraal (Zeeland, Michigan)
Mother – Amy Haverdink '96 Kraal
Grandmother – Ruth Boeve '91 Haverdink
Grandfather – Cliff Haverdink '72
Great-Grandmother - Evelyn Kleinheksel '33 Haverdink
Hannah Lindstrom (Holland, Michigan)
Mother - Mary Hadden '92 Lindstrom-Ritsema
Step-Father - Ray Ritsema '89
Grandmother - MaryAlice Ferguson '57 Ritsema
Grandfather - Robert Ritsema '57
Great-Grandmother - Hazel Lokker '27 Ferguson
Alyssa Potyraj (Grandville, Michigan)
Mother - Anne Roos '90 Potyraj
Grandfather - Robert Roos '52
Great-Grandmother - Ruth Dalman '30 Roos
Caleb Schoon (Ludington, Michigan)
Mother - Michele Sterk '91 Schoon
Father - Jon Schoon '92
Grandmother - Carla VandeBunte '65 Sterk
Grandfather - Vernon Sterk '64
Grandmother - Mary Kay Paalman '66 Schoon
Grandfather - Jon Schoon '63
Great-Grandfather - Russell Paalman '34
Anna Watkin (Holland, Michigan)
Father – Joshua Watkin '94
Great-Grandmother – MaryLouise Flikkema '65 Watkin
Great-Grandfather – John Flikkema '31
Great-Great-Grandfather – Gerrit Flikkema 1895
Gerrit Wiegerink (Holland, Michigan)
Father - Steven Wiegerink '91
Grandfather - Paul Wiegerink '58
Great-Grandfather - Gerritt Wiegerink '33
Nathan Willit (Grandville, Michigan)
Mother - Margaret Miller '86 Willit
Grandmother - Betty Roelofs '53 Miller
Grandfather - Jack Miller '54
Great-Grandmother - Martha Muller '24 Miller
Third Generation


Isaac Bylsma (Hudsonville, Michigan)
Father - Dan Bylsma '84
Grandfather - Gary Bylsma '60
Gabrielle Chandler (Hudsonville, Michigan)
Mother – Nicki Mannes '95 Chandler
Grandmother - Bonnie Brandsma '69 Mannes
Caden Collins (Fowlerville, Michigan)
Mother - Nancy Conn '91 Collins
Father - Christopher Collins '92
Grandmother - Judith Pell '67 Conn
Connor Collins (Fowlerville, Michigan)
Mother - Nancy Conn '91 Collins
Father - Christopher Collins '92
Grandmother - Judith Pell '67 Conn
Mitchell Galer (Byron Center, Michigan)
Mother - Julie VanRiper '93 Galer
Father - James Galer '91
Grandmother - Marilyn Klyn '58 Galer
Grandfather - James Galer '56
Tyler Grose (Holland, Michigan)
Mother - Laurel Housenga '88 Grose
Father - Steve Grose '88
Grandmother - Pauline Peil '65 Housenga
Brennan Hendrickson (Wyoming, Michigan)
Father - Daniel Hendrickson '95
Grandfather - Jerry Hendrickson '60
Jon Hofmeyer (Holland, Michigan)
Father - Mark Hofmeyer '84
Grandmother - Ruth Ausema '61 Hofmeyer
Grandfather - Terry Hofmeyer '61
Andrew Horne (Grand Rapids, Michigan)
Grandmother - Phyllis Heidanus '53 Huff
Grandfather - Richard Huff '52
Great-Grandmother - Mabelle Mulder 1921 Huff
Great-Grandfather - Frank Huff '25
Rachel Hubbert (Grandville, Michigan)
Mother - Julie Beemer '92 Hubbert
Father - Ronald Hubbert '92
Grandmother - Betty Kelder '65 Beemer
Mary Kamara-Hagemeyer (Holland, Michigan)
Father - Jeremy Kamara-Hagemeyer '92
Grandmother - June Veldheer-Millard '62
Grandfather - Jack Millard '61
Grandfather - Stanley Hagemeyer '62
Joseph Kordenbrock (Williamston, Michigan)
Father - William Kordenbrock '84
Great-Grandmother - Martha Gabbard '25 Bicknell
Jacob Kowalski (Holland, Michigan)
Mother - Ruth Ann Kaufman '05 Kowalksi
Grandfather - Myron Jacob Kaufman '59
Isaiah Lee (Holland, Michigan)
Mother - Maricela Mireles '05
Grandmother - Andrea Arismendez '99 Mireles
Amy Osterbaan (Ada, Michigan)
Father - Daniel Osterbaan '91
Grandmother - Joyce Brunsell '51 Kamps
Grandfather - George Kamps '53
Seth Piersma (Wyoming, Michigan)
Mother - Amy Dokter '87 Piersma
Father - Craig Piersma '87
Grandmother - Janet Limeoh '62 Piersma|
Grandfather - Donald Piersma '60
Thomas Spoelhof (Holland, Michigan)
Mother - Wendy King '90 Spoelhof
Grandmother - Barbara Turkstra '68 King
Grandfather - William King Jr. '69
Nicholas Stamas (Kalamazoo, Michigan)
Mother - Laurie Heystek '92 Stamas
Father - George Stamas '90
Great-Grandmother - Mary Ruby Carpenter '41 Steketee
Great-Grandfather - Cornie Steketee '39
Olivia Van Ark (Eaton Rapids, Michigan)
Father - Joseph Van Ark '80
Grandfather - Herman Van Ark '36
Joshua VanDeHoef (Vacaville, California)
Mother - Kelley Householder '92 Van De Hoef
Father - Scott Van De Hoef '91
Grandmother - Carol Bultman '68 Van De Hoef
Grandfather - Larry Van De Hoef '67
Gray Vandervelde (McBain, Michigan)
Mother - Kendra Blank '94 Vandervelde
Father - Michael Vandervelde '89
Grandfather - Graydon Blank '68
Danielle VanIwaarden (Holland, Michigan)
Father - Daniel VanIwaarden '92
Grandfather - John VanIwaarden '57
Second Generation

Elizabeth Bachwich (Dublin, Ohio)
Mother - Elizabeth Kaye '92 Bachwich
Timothy Bartelds II (Zeeland, Michigan)
Mother - Heather Kreuzer '91 Bartelds
Nicholas Beck (Spring Lake, Michigan)
Father - William Beck '87
Jennifer Beckman (Shelby, Michigan)
Mother - Kim Baxter '87 Beckman
Father - David Beckman '85
Owen Beird (Holland, Michigan)
Mother - Anna Glendening '88 Beird
Father - William Beird '88
Veronica Berger (Holland, Michigan)
Step-Father - Matthew Farmer '04
Brayden Blackburn (Whitehall, Michigan)
Mother - Susan Gasper '92 Blackburn
Father - Peter Blackburn '91
Brecken Boeve (Zeeland, Michigan)
Grandmother - Sharon Dyktra '64 LeBlanc
Meredith Bomers (Jenison, Michigan)
Mother - Renee Gauthier '92 Bomers
Father - Jason Bomers '92
Genevieve Brink (Wheaton, Illinois)
Grandfather - Kenneth Brink '60
Kyle Brondyk (Grand Rapids, Michigan)
Mother - Susan VanderVeen '84 Brondyk
Father - Daniel Brondyk '85
Sarah Cannon (Grand Rapids, Michigan)
Mother - Caroline Bredult-Cannon '90
Cameron Carpenter (Glencoe, Missouri)
Mother - Panechanh Choummanivong '93 Carpenter
Father - Christopher Carpenter '90
Krista Carter (Holland, Michigan)
Great-Grandfather - Norwood Reck '49
Makenna Clarke (Holland, Michigan)
Mother - Laura Pemberton '93 Clarke
William Clinton (Cranford, New Jersey)
Grandmother - Priscilla Bouska '62 Van Dam
Grandfather - John Van Dam '59
Patrick Cunnington (Bloomfield Hills, Michigan)
Mother – Dina Garcia '93 Cunnington
Father – Patrick Cunnington '93
Julia Dawson (Richland, Michigan)
Mother - Janis Sanderson '87 Dawson
Father - Jeff Dawson '88
Holly Denouden (Caledonia, Michigan)
Grandfather - Thomas Hoekstra '62
Kasey DeSmit (Hudsonville, Michigan)
Mother - Wendy Evert '95 DeSmit
Jenna DeYoung (Mokena, Illinois)
Father - Kevin De Young '89
Marshal Diep (Grayslake, Illinois)
Father - Sam Hoc Diep '90
Bailey Ellens (Hamilton, Michigan)
Mother - Rachel DeHaan '08 Ellens
Julia Elzinga (Grand Haven, Michigan)
Grandmother - Sandra VanderBerg '63 Elzinga
Grandfather - William Elzinga '60
Rachael Fornarotto (Pocatello, Idaho)
Mother - Kate McGory '86 Fornarotto
Nicholas Fornarotto (Pocatello, Idaho)
Mother - Kate McGory '86 Fornarotto
Samuel Gaby (Duluth, Georgia)
Mother - Barbara Van Andel-Gaby '83
William Graham (Belmont, Michigan)
Mother - Susan Laidlew '91 McCreery
Braden Griffin (Fennville, Michigan)
Mother - Courtney Alexander '95 Griffin
Isabel Hodson (Holland, Michigan)
Mother - Carrie Terpstra '88 Hodson
Father - Robert Hodson '88
Abby Holm (Lake Villa, Illinois)
Grandmother – Gloria Heuvelhorst '64 DeKleine
Samuel Joachim (Dearborn, Michigan)
Mother - Anne Schloff '91 Joachim
Saydee Johns (Holland, Michigan)
Mother - Janis Yntema '93 Johns
Chester Johnson (West Olive, Michigan)
Mother - Carrie Waterway '97 Johnson
Father - Andrew Johnson '97
Erin Kloostra (Kalamazoo, Michigan)
Grandmother - Mary Nevenzel '64 Huizen
Grandfather - Gordon Huizen '63
Krystyna Koedyker (Holland, Michigan)
Father - Harvey Koedyker '82
Jacob Kruzich (Kalamazoo, Michigan)
Mother - Kristen Swope-Kruzich '95
Abigail LaDuke (Holland, Michigan)
Mother – Cristy Vredevelt '92 LaDuke
Matthew MacIntyre (Waukesha, Wisconsin)
Father - David MacIntyre '92
Sydney Matuska (Commerce Township, Michigan)
Mother - Shannon Riessen '91 Matuska
Father - John Matuska '91
Daniel Mauger (Holland, Michigan)
Father - Steve Mauger '92
Grace McConaghie (Peoria, Illinois)
Mother - Rachelle Smith '90 McConaghie
Elizabeth Merritt (Holmes Beach, Florida)
Mother - Camrin Anderson '99 Merritt
Father - Kristopher Merritt '98
Sarah Mikesell (Norton Shores, Michigan)
Grandfather - Terry Carlson '67
Kathryn Mulder (Grand Ledge, Michigan)
Father - Mark Mulder '86
Isaac Nelson (Belmont, Illinois)
Grandmother - Donna Rynbrandt '64 Miller
Grandfather - Roger Miller '62
Jonathan Outen (Hackensack, New Jersey)
Grandmother - Lisa Weatherbee '84 Cordero
Addison Panse (Holland, Michigan)
Mother - Kelly O'Dowd '93 Panse
Audrey Persch (Hudsonville, Michigan)
Mother - Heather Cole '92 Persch
Father - Frederick Persch '91
Josiah Peterson (Holland, Michigan)
Father - Jonathan Peterson '84
Charlie Pietryga (Grand Rapids, Michigan)
Mother - Pamela Fortuin '83 Pietryga
Alison Plasman (Grandville, Michigan)
Mother - Susan Kuiper '85 Plasman
Megan Radaz (Alma, Michigan)
Mother - Wendy Campbell '87 Radaz
Collin Reenders (Grand Haven, Michigan)
Father - Scott Reenders '84
Leah Reinardy (Zeeland, Michigan)
Mother - Joan Vannord '88 Reinardy
Stephanie Richardson (Galesburg, Michigan)
Mother - Christine Wichnal '88 Richardson
Father - Mark Richardson '88
Abigail Schuen (Grand Rapids, Michigan)
Mother - Sherry Grupp '90 Schuen
Alexander Sellers (Glen Ellyn, Illinois)
Mother - Jennifer Jarvis '92 Sellers
Garett Shrode (Hamilton, Michigan)
Mother - Nancy Barta '95 Shrode
Father - Bart Shrode '95
Isabel Snoap (Holland, Michigan)
Mother - Laura Snoap '95 Bauman
Father - Bruce Snoap '90
Charles Soucey (Ada, Michigan)
Mother - Mary Jane Rhoades-Soucey '85
Lydia Sprik (Grand Rapids, Michigan)
Father - Sherman Sprik '77
Jael Stilwell (Holland, Michigan)
Mother - Tamara Nederveld '90 Stilwell
Hannah Stuursma (Grand Rapids, Michigan)
Mother - Amy Cook '93 Stuursma
Father - J. Peter Stuursma '93
Megan Summerfield (Lowell, Michigan)
Grandmother - Margaret Allen '39 Mc Mahon
Nichole Thomas (Islamorada, Florida)
Mother - Dee Ianuzi '84 Thomas
Jace Thornton (Ada, Michigan)
Mother - Stephanie Carpenter '92 Thornton
Nathaniel Trumble (Granger, Indiana)
Mother - Vonnie Dood '90 Trumble
Father - Scott Trumble '90
Seth Van Blois (Grandville, Michigan)
Mother - Rebecca Weigle '91 Van Blois
Father - Brent VanBlois '90
Allison Van Dam (Holland, Michigan)
Father - Doug VanDam '93
Tyce Vander Goot (Hudsonville, Michigan)
Mother - Beth Hozee '96 VanderGoot
Autumn VanDoornik (Holland, Michigan)
Grandfather - Fred VanDoornik '80
Nicholas Wehrmeyer (Holland, Michigan)
Mother – Jan Looman '94 Wehrmeyer
Father - Todd Wehrmeyer '86
Nicholas Weigle (Grandville, Michigan)
Mother - Jill Bernson '89 Weigle
Father - Matthew Weigle '89
Emma West (Saint John, Indiana)
Grandfather - Albert VanderMeer '67
Jacob Westrate (West Olive, Michigan)
Father - Kevin Westrate '93
Benjamin Woodworth (Holland, Michigan)
Mother - Jessica Hutchins '94 Woodworth
Father - Michael Woodworth '94
Ryan Yonker (Hudsonville, Michigan)
Father - Daniel Yonker '92