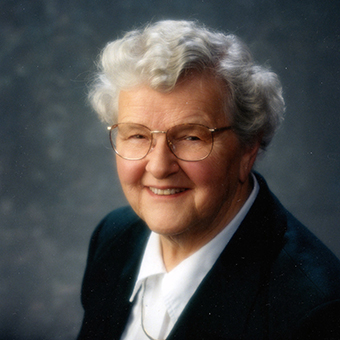 Dr. Margaret Van Wylen of Holland, who was the first lady of Hope College for 15 years, died on Saturday, August 4, 2018, one day before her 94th birthday.
Her husband, Dr. Gordon Van Wylen, was the college's president from 1972 until retiring in 1987. He survives her.
A member of the religion faculty during the Van Wylens' tenure, current President Dr. Dennis Voskuil remembered Margaret for her dedication to others — both at the college and beyond.
"In her quiet way, Margaret Van Wylen served Hope College and the community of Holland in remarkable ways," he said. "In addition to nurturing five children while fully supporting Gordon during their long presidency, Margaret provided stellar leadership for the psychiatric department at Holland Hospital. She was a very special woman of faith who consistently devoted herself to the needs of those around her."
Margaret was born in Grand Haven, the daughter of Dr. and Mrs. Stuart DeWitt and the fourth of six children, and graduated from Grand Haven High School in 1942. She graduated from Duke University in 1945 and attended Biblical Seminary in New York City for a year before entering the University of Michigan Medical School. As she was completing her medical degree, Margaret was diagnosed with tuberculosis; the illness hospitalized her for 16 months and delayed her graduation from medical school. She graduated in 1952 but rather than pursuing medicine at that time, she devoted her time to her home and family, returning to medicine in 1975 and subsequently completing her internship and residency in psychiatry and pursuing her career.
She retired from a career as a psychiatrist in 1994. She had been on the staff of Holland Hospital, and had served as both medical director of the Psychiatric Unit and as chair of the Psychiatric Department. She had also been staff psychiatrist with Ottawa County Community Mental Health and with Child and Family Services, and had been in private practice.
Through the years she had been extensively involved in the community, where among other activity she had been a member of the boards of Hospice, Community Action House, Evergreen Commons and Ladder House; a volunteer facilitator for the Ottawa-Allegan Support Group for Multiple Sclerosis; and an administrative elder at Christ Memorial Church.
She was named "Michigan Mother of the Year" by the Michigan Mothers Association in 1980. She and Gordon were the grand marshals for Holland's Tulip Time Volksparade in May 2005.
Faculty, staff and friends of Hope established the Gordon J. and Margaret D. Van Wylen Scholarship Fund at Hope in 1982 in honor of the couple's service to the college. Hope presented Margaret with an honorary degree during the college's Commencement ceremony in 1987, when Gordon also delivered the Commencement address. One year later, in 1988, Hope unveiled its new library, named in honor of both Margaret and Gordon. The college's Alumni Association presented the couple with Meritorious Service Awards in 1998.
In conjunction with the year of their retirement from Hope, Gordon and Margaret established an endowed scholarship at the college in the name of the graduating Class of 1987. The couple stayed actively engaged with the college after retiring, including attending May Term courses abroad and Hope events on campus.
In addition to Gordon, Margaret's survivors include five children, three of whom graduated from Hope: Elizabeth Rudenga; Stephen, Class of 1977; Ruth Jasperse, Class of 1979; David; and Emily Overway, Class of 1985. Dr. David Van Wylen is a professor of biology and dean for the natural and applied sciences at Hope, where he joined the faculty in 2015.

Visitation will be on Thursday, Aug. 9, from 4 p.m. to 7 p.m. at Langeland-Sterenberg Funeral
Home. A memorial service will be held at the Jack H. Miller Center for Musical Arts on Friday, Aug. 10 at
11 a.m. Arrangements are by Langeland-Sterenberg Funeral Homes. An obituary is available online.