Dr. Kendra R. Parker of the Hope College English faculty will present "She Bites Back: Black Women as Predators in Life and Lit" on Thursday, Feb. 28, at 3:30 p.m. at Hope in the Fried-Hemenway Auditorium of the Martha Miller Center for Global Communication through the Department of English Colloquium Series.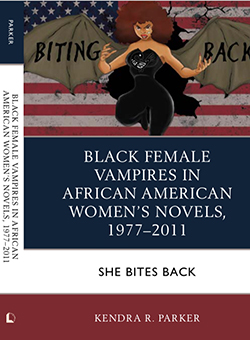 The public is invited. Admission is free.
Parker's book "Black Female Vampires in African American Women's Novels, 1977-2011: She Bites Back" was published in December by Lexington Books. In it, Parker examines five novels by four African American woman writers that feature black female vampires: "Mind of My Mind" and "Fledgling," by Octavia E. Butler; "The Gilda Stories," by Jewelle Gomez; "The Bitten," by L.A. Banks; and "Just Wanna Testify," by Pearl Cleage.
While presenting settings and conflicts with supernatural or fantastic elements, the stories explore serious questions about society, stereotypes and expectations as they relate to black women, who are portrayed as both strong and nurturing as they navigate the challenges they face. The authors' approach, Parker said, is a response to the social construction of African American women as predators.
"I was interested in the ways that these black female vampires were different than the ones that we've seen in other films, television series and books," said Parker, who is an assistant professor of English and affiliate faculty member in the college's Women's and Gender Studies Program. "I wanted to see how the novels spoke to our past, present or even the future."
"The authors dismantle the stereotypes, and I was interested in how they present a holistic picture of black womanhood," Parker said. "They're collapsing the binary of 'either/or' and replacing it with 'both/and.'"
In four of the five cases, the vampires — whose condition doesn't always involve taking blood — are the protagonists, confronting relationships and systems that are damaging to them and others.
"The scary part isn't the black female vampire," Parker said. "The scary part is what they face."
The heroine in "Fledgling," for example, survives an attempted genocide with critical injuries and finds her credibility as a witness challenged by the tribunal that investigates. The central character in "The Gilda Stories" experiences life at the margins of society for two centuries, beginning as a slave in Louisiana. Even the predatory vampires of "Just Wanna Testify" are more than they first appear.
Author Tananarive Due of the faculty of the University of California, Los Angeles is among those who have praised Parker's book, noting in her review, "Parker's energetic, well-researched book chronicles the creative and subversive ways black women have written about vampires. Rooted in history, but firmly aimed at the present and future, Parker's research and analysis reveal the deeper meaning behind black women's depictions of vampires in myriad forms — and how sometimes the unhuman can be the most human rendering of all."
Parker joined the Hope faculty in 2013 as a Preparing Future Faculty Teaching Fellow in English while in the final year of her doctoral program at Howard University, and she was appointed an assistant professor on the tenure-track in 2014. In addition to African American literature, she teaches first-year composition, cultural heritage, and Women's and Gender Studies courses.
She is the former assistant editor for the "CLA Journal," where she most recently guest edited and wrote the introduction for "Decolonizing the University: A Battle for the African Mind" — a special issue of "CLA Journal." Additionally, she has published "Octavia Butler and Afrofuturism" ("Gale Researcher" 2016) and "Unchaining Selves: Contemporary Slavery and Health Care Freedom in Tananarive Due's 'Blood Colony'" ("CLA Journal" 2015). She has two forthcoming publications: "Intergroup Dialogue and 'Difficult Conversations': Teaching Octavia Butler at a Private, Christian PWI," in "PMLA: Approaches to Teaching Octavia E. Butler" (edited by Tarshia Stanley), and "Noble Savages, Magical Negroes, and Exotic Others, Oh My!: Black Female Vampires in 'Twilight: Breaking Dawn Part 2,'" in "Monster Media in their Historical Context" (edited by Frank Jacob and Verena Bernardi). She is also the co-editor of "The Bloomsbury Companion to Octavia E. Butler" (scheduled for a 2019 publication).
In addition to her doctorate from Howard University, Parker holds a bachelor's degree in English from the University of West Georgia, from which she graduated in 2008. She received the David Bottoms Distinguished Alumna Award from the University of West Georgia's Department of English and Philosophy in April 2018.
Parker's presentation is among a variety of public events scheduled at Hope in conjunction with national Black History Month, which runs Feb. 1-28. Others include a presentation on Tuesday, Feb. 19, by Franklin J. Macon, a Documented Original Tuskegee Airman who is author, with 1991 Hope graduate Elizabeth Blom Harper, of the book "I Wanted to Be a Pilot: The Making of a Tuskegee Airman"; a Gospel Fest concert on Saturday, Feb. 23, featuring the Hope College Community Gospel Choir and other regional choirs; and the address "Speaking Truth to Power" on Wednesday, Feb. 27, by author Austin Channing Brown.
The Martha Miller Center for Global Communication is located at 257 Columbia Ave., at the corner of Columbia Avenue and 10th Street.