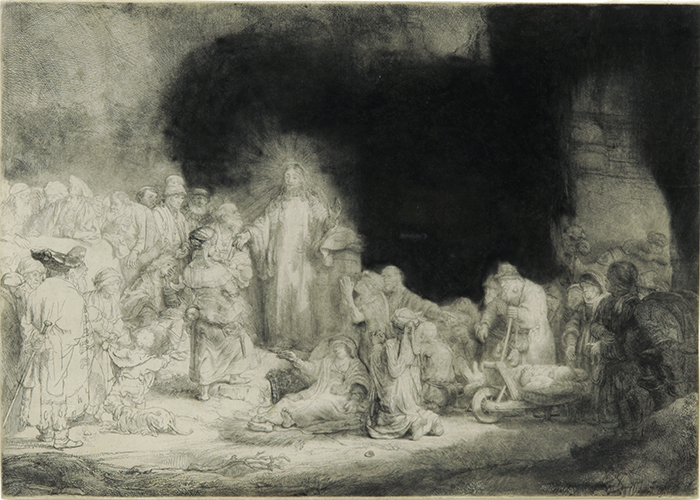 A new focus exhibition opening at the Hope College Kruizenga Art Museum on Tuesday, April 9, will showcase etchings by Dutch artist Rembrandt van Rijn.
The public is invited. Admission is free.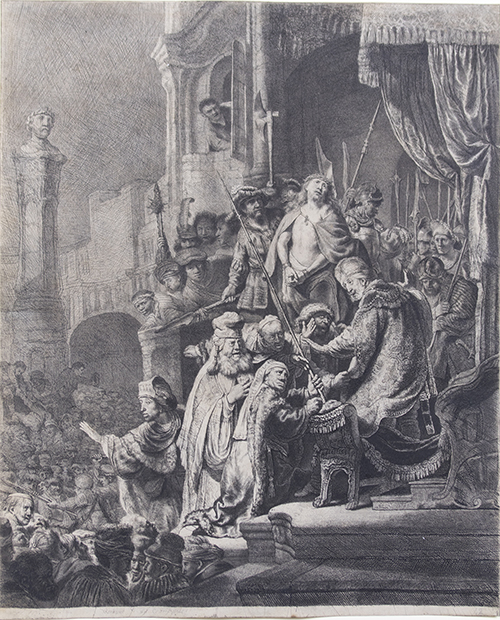 This year marks the 350th anniversary of the death of Rembrandt. Born in 1606 in the city of Leiden, Rembrandt began training as an artist at age 14. In 1632 he moved to Amsterdam and quickly gained fame there for his portraits, biblical and mythological scenes, and scenes of everyday life. Numerous tragedies would mark his life, including the loss of three children in infancy, and the premature death of his wife, Saskia van Uylenburgh. Though an excellent artist whose work fetched high prices, Rembrandt was a poor manager of money. He declared bankruptcy in 1656 and for the last 13 years of his life he eked out a living on minor commissions and fees from students. Upon his death in 1669, he was buried as a pauper in an unmarked grave.
Printmaking was an important part of Rembrandt's practice, allowing the artist to express himself creatively in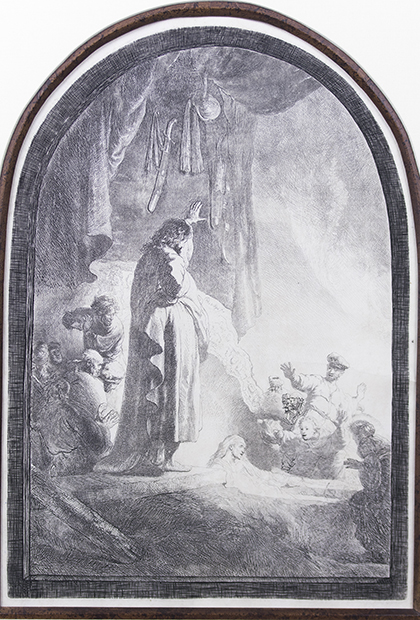 ways different from drawing or painting. By re-working and re-printing his plates, Rembrandt was able to experiment with various techniques and materials using the same image, thus creating multiple states of many of his prints. The number of different print states continued to grow after Rembrandt's death as his original plates were re-worked and re-printed by other artists and publishers. Rembrandt's prints are therefore typically identified both by the date of the original composition, and by the date a particular impression was created.
"Rembrandt Etchings" will include impressions of 13 etchings by Rembrandt. The prints that will be on display in the exhibition all depict biblical subjects and were created by Rembrandt between 1632 and 1655. "Rembrandt was a man of strong faith, and he clearly took inspiration from the Bible as he navigated the challenges of his life," said Charles Mason, who is the director and the Margaret Feldmann Kruizenga Curator of the Kruizenga Art Museum. Approximately one quarter of Rembrandt's etchings depict stories from the Bible.
All of the prints in the "Rembrandt Etchings" exhibition were recently donated to the permanent collection of the Kruizenga Art Museum. The exhibition will continue through Saturday, June 1.
Admission to the Kruizenga Art Museum is always free. Public visiting hours are Tuesdays through Saturdays from 10 a.m. to 4 p.m. Please check the museum's website or social media for additional information about special programs and events related to "Rembrandt Etchings."
The museum functions as an educational resource for Hope College and the greater West Michigan community. The museum features two public galleries as well as a classroom and climate-controlled storage space for its 4,500-object permanent collection. It is named in honor of a leadership gift from Dr. Richard and the late Margaret Kruizenga of Holland, both of whom graduated from Hope in 1952.
The Kruizenga Art Museum is located at 271 Columbia Ave., between 10th and 13th streets.
The Raising of Lazarus
Rembrandt van Rijn (Dutch, 1606-1669)
1632; this impression late 17th-early 18th century
Etching and drypoint
The Sarah and Grace Collection, 2018.8.6
Christ Before Pilate
Rembrandt van Rijn (Dutch, 1606-1669)
1636; this impression 17th-18th century
Etching, engraving and drypoint
The Sarah and Grace Collection, 2018.8.2
Christ Healing the Sick (The Hundred Guilder Print)
Rembrandt van Rijn (Dutch, 1606-1669)
Ca. 1649; this impression early 18th century
Etching, engraving and drypoint
The Sarah and Grace Collection, 2018.8.13