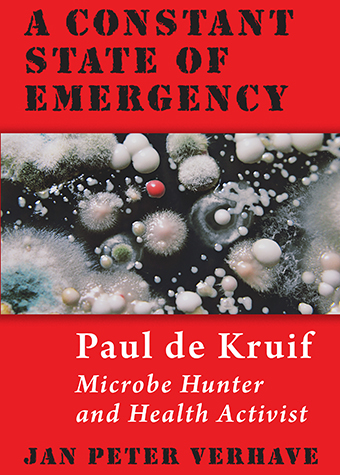 A biography published by the Van Raalte Press at Hope College about Zeeland native Dr. Paul de Kruif, whose 1926 book "Microbe Hunters" became an international bestseller, has won a 2020 State History Award from the Historical Society of Michigan.
The annual awards are the highest recognition presented by the Historical Society of Michigan, and honor individuals or organizations that have made outstanding contributions to the appreciation, collection, preservation and/or promotion of state and local history. The biography, "A Constant State of Emergency: Paul de Kruif, Microbe Hunter and Health Activist," by Dr. Jan Peter Verhave, was published by The Van Raalte Press in 2019 as number 98 in the Historical Series of the Reformed Church in America.
The Historical Society of Michigan will be presenting 18 awards in multiple categories during annual Michigan History Conference, which will be held on Oct. 2-3, and will be a virtual event this year due to the global COVID-19 pandemic. "A Constant State of Emergency" is one of three publications being honored in the "Books: Private Printing" category.
Although De Kruif's career as a microbiologist and writer spanned decades, he hadn't previously been the subject of a book-length biography. "A Constant State of Emergency" explores his work, impact, and professional and personal struggles. The title is from a comment about him by writer John Steinbeck: "Paul is in a constant state of emergency."
De Kruif, who lived from 1890 to 1971, informed, educated and disturbed the public at large with 318 articles in popular magazines and 12 books. His 112 articles in Reader's Digest, which had 16 million subscribers at its peak, earned him immense influence.
He had strong West Michigan roots — his grandfather came to America on the same ship as the Rev. Albertus C. Van Raalte, founder of Holland — although Verhave notes that the arc of his personal life didn't reflect his conservative Dutch-Calvinist upbringing. Professionally, De Kruif first pursued a career in microbiology after earning a doctorate from the University of Michigan, but then, in the early 1920s, decided to write for the public on medical matters and science.
Verhave, whose own career has been in microbiology, was the first Netherland-America Foundation Visiting Research Fellow at the Van Raalte Institute during 2006-07 and has been an honorary research fellow with the institute since 2009. He received his Ph.D. from the University of Nijmegen Medical School in 1975. His teaching and research in vaccination, immunology, and the epidemiology of malaria took him to Senegal, Burkina Faso and Cameroon, Africa. He taught for many years at Radboud University Medical School, where he became an internationally recognized authority in parasitology. His scientific publications include "The Moses of Malaria: Nicolaas Swellengrebel, Abroad and at Home" (2011), "The Medical Journal of the Indies 1852-1942," editor (2017), and some 250 articles in scientific journals. He also is the author of five books in church history and art. He lives in Malden, the Netherlands.
Established in 1994, the Van Raalte Institute specializes in scholarly research and writing on immigration and the contributions of the Dutch and their descendants in the United States. The institute is also dedicated to the study of the history of all the people who have comprised the community of Holland throughout its history. In 2007, then-director Dr. Jacob E. Nyenhuis established The Van Raalte Press as a vehicle to publish the publications developed by the institute. The Van Raalte Press is also the official publisher of papers presented at the biennial conferences of the Association for the Advancement of Dutch American Studies.
The Historical Society of Michigan is the state's official historical society and oldest cultural organization, founded in 1828. A nongovernmental nonprofit, the Society focuses on publications, conferences, education, awards and recognition programming, and support for local history organizations to preserve and promote Michigan's rich history.
The Michigan History Conference explores significant people, places and events in Michigan's past through a diverse offering of keynote speakers, breakout sessions, workshops and tours. Normally, the conference moves to a different location every year to feature the local history of that area and to address notable statewide historical matters. Though this year's conference is a virtual event, many sessions will focus on the history of Lansing. Standard registration ends on Thursday, Oct. 1, 2020. Registration details and full session descriptions are available on HSM's website: hsmichigan.org.
"A Constant State of Emergency: Paul de Kruif, Microbe Hunter and Health Activist" is in paperback and retails for $35. The book is available online and at the Hope College Bookstore on the lower level of the DeWitt Center, which is located at 141 E. 12th St., facing Columbia Avenue between 10th and 13th streets, and can be visited online at hope.edu/bookstore. The book can also be purchased at Reader's World in downtown Holland.