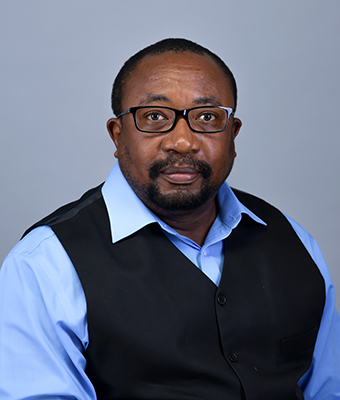 Dr. Ernest Cole of the Hope College English faculty has been honored by the African Literature Association as author of the best article in African literary studies published in a major peer-reviewed journal in 2019.
Cole, who is the John Dirk Werkman Associate Professor of English and chair of the Department of English at Hope, has received the association's Abioseh Porter Best Essay Award. The recognition is for his article "Decentering Anthropocentrism: Human-Animal Relations in Aminatta Forna's 'Happiness,'" which was published in the Journal of African Literature Association in January 2019.
"In this paper, I argue that 'Happiness' focuses on interspecies relations by decentering man from a position of superiority over animals to interdependence between humans and animals," Cole explains in the paper's abstract. "I contend that 'Happiness' provides a basis for exploration of the theme of interspecies relations, while it articulates Forna's concerns for the environment and its connections to ecocritical theory and post-colonial studies."
His article reflects his ongoing interest in the work of Aminatta Forna, who like Cole is originally from Sierra Leone. His publications include the book "Space and Trauma in the Writings of Aminatta Forna" (2016), which was the focus of a roundtable session in which Forna and multiple other scholars participated during the 2017 annual conference of the African Literature Association.
More broadly, he specializes in post-colonial literature with particular emphasis on Sub-Saharan Anglophone African literature, India, and the Caribbean; disability studies with a focus on the disfigured body, violence and trauma; and travel and empire studies, especially Victorian literature and its intersections with world literature. His research focuses primarily on post-apartheid South Africa, but he is also interested in body and trauma studies, especially the ways in which bodily injury shapes identity.
His other publications include the books "Theorizing the Disfigured Body: Mutilation, Amputation, and Disability Culture in Post-Conflict Sierra Leone" (2014), and two edited collections, "Emerging Perspectives on Syl Cheney Coker" (2014), with Eustace Palmer, and "Ousmane Sembene: Writer, Filmmaker, and Revolutionary Artist" (2016), with Oumar Cherif Diop. He has also had multiple articles and book reviews on post-colonial literature in the Journal of African Literature Association, as well as book chapters in "A Critical Introduction to Sierra Leonean Literature" (2008) and "African Cultures and Civilizations" (2005).
In 2012, Cole was one of 15 scholars nationwide chosen to participate in that year's Lilly Fellows Program Summer Seminar for College and University Teachers, "Teaching Peace and Reconciliation: Theory and Practice in Northern Ireland." Hope named him a "Towsley Research Scholar" in support of his research in 2011, and presented him with its Motoichiro Oghimi Global Courage Award in 2017. He discussed his work during the college's Winter Happening event in February 2011, presenting the seminar "Negotiating Amputation, Forgiveness and Reconciliation," and was among the presenters during the college's September 2012 Critical Issues Symposium, which examined "Reconciliation: Hope in a Divided World."
Cole joined the Hope faculty in 2008 after completing graduate studies at the University of Connecticut. He previously taught African literature at Fourah Bay College, University of Sierra Leone (1990–96); Gambia College, Brikama (1996-2000); and the University of The Gambia (2000–03).
The African Literature Association is an independent non-profit professional society open to scholars, teachers and writers from every country and has more than 600 members. It exists primarily to facilitate the attempts of a world-wide audience to appreciate the efforts of African writers and artists. The Abioseh Porter Best Essay Award has been presented annually since 2016 and is named in honor of Dr. Abioseh Porter, a professor of English at Drexel University.