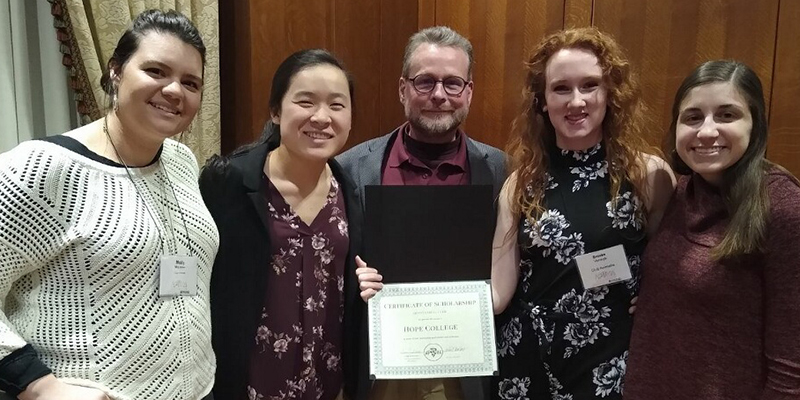 The award honors the club for its community service and outreach programs. It was presented during the association's 2020 Annual Symposium, held on Friday-Saturday, Feb. 28-29, and hosted by the Virginia-Maryland Regional College of Veterinary Medicine in Blacksburg, Virginia.
Club Animalia works to promote the human-animal bond on campus and throughout the greater Holland area, and to provide services to students in order to increase awareness and stimulate interest in careers related to animal care. Its activities include volunteering with the Harbor Humane Society; organizing, in collaboration with Hope's Counseling and Psychological Services office, a "Finals Stress Relief" with therapy dogs; presentations with the college's Middle School Girls STEM [Science, Technology, Engineering and Mathematics] Day; the Scouts "Veterinary Science Badge Day"; and numerous fundraising and charity events.
This year's award honored in particular the club's organizing and hosting of a Regional APVMA Symposium this past Saturday, Nov. 16, at Hope. The event was attended by undergraduates and high school students from Michigan, Indiana, Illinois, Wisconsin, Ohio and Puerto Rico.
The club has been advised by Dr. Greg Fraley, professor of biology, and local veterinarian Dr. Susan Fraley from its founding in 2006 through the end of the current school year.
The APVMA is a national organization with more 10,000 individual members representing more than 100 pre-veterinary clubs from nearly 100 institutions from the United States, Canada and Puerto Rico.