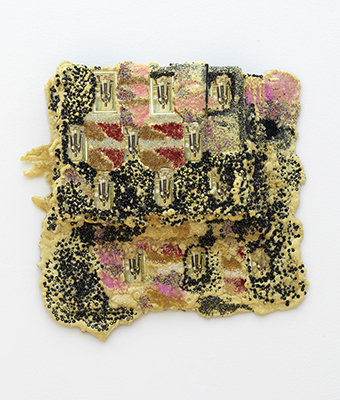 The De Pree Art Center and Gallery at Hope College will be featuring the virtual exhibition "Luis Sahagun: Lo Que Grita Mi Piel" ("That Which My Skin Screams") on Tuesday, Sept. 15, through Thursday, Oct. 15, in conjunction with National Hispanic Heritage Month.
The exhibition may be viewed at hope.edu/depree-gallery. Viewing is free. Out of an abundance of caution due to the ongoing COVID-19 pandemic, the gallery space itself is closed to visitors.
Sahagun will deliver a virtual artist's talk via Zoom on Friday, Sept. 18, at 5 p.m. The public may register for the free event through the link in the event's listing at calendar.hope.edu.
"Lo Que Grita Mi Piel" ("That Which My Skin Screams") confronts the palpable inescapability of race and transforms art into an act of cultural reclamation through alternative Latinx narratives. The virtual exhibition, a first for the De Pree Gallery, is co-curated by Hope seniors Kathryn Henry, who is majoring in studio art and psychology, and Sylvia Rodriguez, who is majoring in art history. The viewer will interact with nine works by Sahagun, completed in a variety of media and accompanied by audio and video elements.
Sahagun was born in Guadalajara, Jalisco, Mexico, in 1982. His grandfather came to the United States in the 1940s under the Bracero Program, working in the steel industry in Chicago Heights. Sahagun's father found field work in the late 1970s, and Luis was brought to this country in 1985, living undocumented until he was naturalized in 1995 under Ronald Reagan's Immigration Reform and Control Act of 1986. Sahagun, a 2001 graduate of Bloom High School in Chicago Heights, earned his BFA from Southern Illinois University in 2006 and his MFA in painting from Northern Illinois University in 2015.
He has participated in multiple solo, juried, invitational and national exhibits in the U.S and Mexico. In addition to being featured in New American Paintings (Issue #111), his work has also been showcased at the International Exposition of Contemporary Art (expo) Chicago, the Museum of Contemporary Art Chicago, Chicago Cultural Center, and the National Museum of Mexican Art in Chicago.
Sahagun has worked as a teaching artist for the School of the Art Institute of Chicago, Chicago Public Schools, the Smart Museum of Art, and the Museum of Contemporary Art in Chicago. He is currently an Artist-in-Residence/Visiting Professor for Critical Race Studies in Michigan State University.