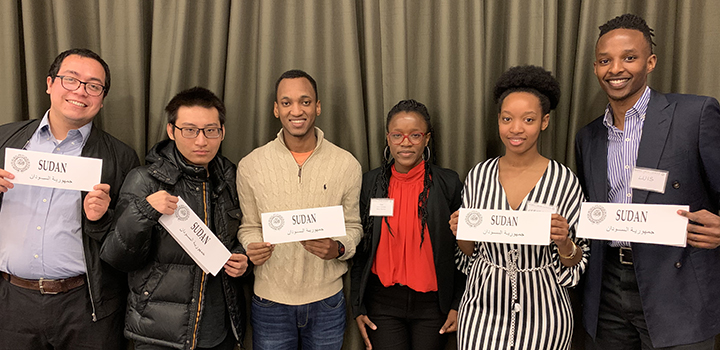 She received the league's Outstanding Chair Award as chair of the Joint Defense Council during the event, held on Thursday-Saturday, Feb. 13-15, at Grand Valley State University, and has also been selected to serve as secretary general during the spring 2021 Model Arab League. She had previously received one of the 2019 event's "distinguished chair" awards for her work chairing the Council of Arab Social Affairs Ministers.
Ngoma was part of a team of six students from Hope representing the views of the government of Sudan and the policy objectives of Sudan during the Model Arab League (MAL). They debated against delegates from six other colleges and universities in five councils: Environmental Affairs, Joint Defense, Political Affairs, Social Affairs and Palestinian Affairs.
The Hope delegation also consisted of Merveilles Ishimwe of Rwanda and Illinois, who was on the Council on Palestinian Affairs; Luis Kayiteshonga of Rwanda, who was on the council of Arab Environmental Affairs Ministries; Anh Le of Vietnam, who was on the Joint Defense Council; Fadi Nshimiyimana of Rwanda and Colorado, who was on the Council on Political Affairs; and Jose Francisco Rivera Vega of Mexico, who was on the Council on Arab Social Affairs Ministers.
MAL is dedicated to expanding students' knowledge and understanding of the culture, history and politics of the Middle East. The competition was sponsored by the National Council on U.S.-Arab Relations (NCUSAR) based in Washington, D.C.
In participating in the Model Arab League, students discovered the challenges of international diplomacy while developing strong public speaking and negotiation skills. Also, Model Arab League provided students the opportunity to synthesize complex questions, policy interests, and real world issues into implementable policy solutions.
The Hope students participated under the auspices of the college's Fried Center for Global Engagement. Their adviser was Habeeb Awad, who is international student and scholar adviser at Hope.
The Arab countries represented during the event were Algeria, Bahrain, Egypt, Iraq, Jordan, Kuwait, Libya, Palestine, Saudi Arabia, Sudan, the Syrian National Coalition and Tunisia. In addition to Hope College, the participating schools were Aquinas College, Grand Rapids Community College, Grand Valley State University, Spring Arbor University, the University of Michigan-Dearborn and the University of Maryland.