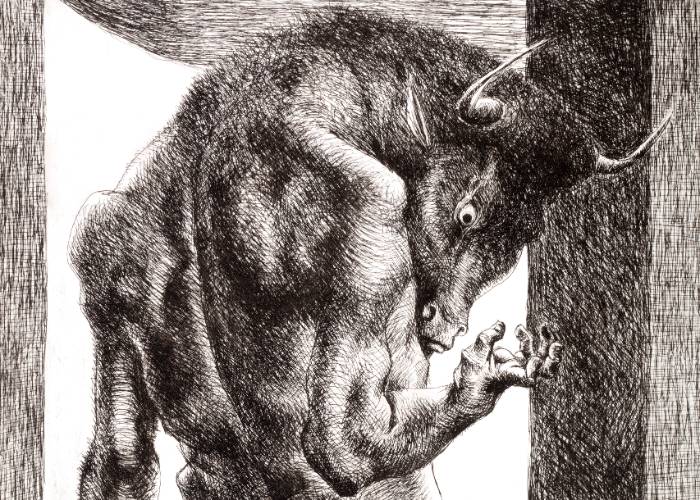 Minotaur Risen
Michael Ayrton (British, 1921-1975)
1971
Etching
Hope College Collection, purchased with funds donated by Mr. and Mrs. George Strumbos, 1988.2.8
A new exhibition, "Michael Ayrton's Minotaur Suite," will open at the Hope College Kruizenga Art Museum on Friday, May 28, and run through Saturday, Aug. 28. Admission to the exhibition is free.
Michael Ayrton (1921-75) was a British painter, printmaker and sculptor who never fit easily into any of the major currents of modern British and European art. Although he left school while still in his teens, he possessed a deep knowledge of European history and literature and often drew upon that knowledge to create his works of art. This exhibition features a suite of 10 etchings created by Ayrton in 1971 that portray the life of the Minotaur, a fearsome half-man, half-bull creature from classical Greek mythology.
"The Minotaur myth is full of passion, intrigue and violence and has been portrayed by numerous artists from antiquity to modern times," explains Charles Mason, director and Margaret Feldmann Kruizenga Curator of the Kruizenga Art Museum. "Ayrton's Minotaur Suite stands out as one of the most complex pictorial treatments of the myth. In it he envisions the life of the Minotaur from conception to adulthood. But instead of simply portraying the Minotaur as a monster or as a symbol of brute strength as many previous artists had done, Ayrton focuses on the Minotaur's psychological and emotional states, emphasizing the confusion, alienation and pain felt by the Minotaur as a result of being caught between different worlds."
The 10 prints of the Minotaur Suite will be accompanied by 22 additional paintings, drawings, prints and sculptures by Ayrton that illustrate his deep engagement with classical Greek mythology over the last 20 years of his career. The exhibition is one of several that have been organized by museums and galleries around Great Britain and the United States to celebrate the 100th anniversary of Ayrton's birth. A new book about Ayrton's life and artistic career featuring an essay by retired Hope College professor Jack Nyenhuis, one of the world authorities on Michael Ayrton, will also be available for viewing in the exhibition space.
The Kruizenga Art Museum's public visiting hours are Tuesdays through Saturdays from 10 a.m. to 4 p.m. All visitors to the museum are currently required to wear masks and to maintain appropriate physical distances from other visitors and museum staff. Please check the museum's website hope.edu/kam or social media for additional information about current museum hours and guidelines.
Admission to the Kruizenga Art Museum is always free.
The museum functions as an educational resource for Hope College and the greater West Michigan community. The museum features two public galleries as well as a study room and climate-controlled storage space for its 6,000-object permanent collection. It is named in honor of a leadership gift from Dr. Richard and Margaret Kruizenga, both of whom graduated from Hope in 1952. Margaret Kruizenga died in April 2013, and Richard Kruizenga died on Aug. 15, 2020.
The Kruizenga Art Museum is located at 271 Columbia Ave., between 10th and 13th streets.