The Hope College Knickerbocker Theatre film series returns after over a one-year absence with a summer "One Night Only" series, featuring four films every Monday from July 26 to August 16 at 7:30 p.m. The series will feature "Gidget," "American Graffiti," "Dirty Dancing" and "The Sandlot."
The series was chosen to provide light-hearted summer entertainment that offer both fun and hope in these challenging times.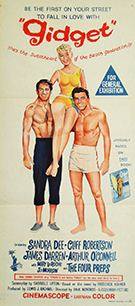 "Gidget" will open the series on July 26. The 1959 American comedy stars Sandra Dee, James Darren, Cliff Robertson and Arthur O'Connell. The film follows teenager Francie Lawrence (Sandra Dee), who is surrounded by her boy-crazy friends, something she couldn't care less about. The tides change when she goes to the beach one day and meets surfer Jeffrey "Moondoggie" Matthews (James Darren) and his friends. Determined to learn how to surf, Francie, whom the guys nickname "Gidget," dives into the world of Southern California surfing fever.
The series will continue with the 1973 enduring classic "American Graffiti" on August
2. The coming-of-age comedy follows a couple of high school graduates as they spend one final night cruising the strip together before heading to college. Friends Curt (Richard Dreyfuss), Steve (Ronny Howard), Terry (Charles Martin Smith and John (Paul Le Mat) cruise the streets of small-town California while a disc jockey (Wolfman Jack) spins classic rock n' roll tunes. Plus, a young Harrison Ford makes his breakout film appearance as a street drag-racing hero.
"Dirty Dancing" continues the series on August 9. The 1987 romantic drama stars Jennifer Grey and Patrick Swayze. Frances "Baby" Houseman (Jennifer Grey) is disappointed when her summer plans land her at a resort in the Catskills with her parents. However, her summer turns around when she meets the resort's dance instructor, Johnny (Patrick Swayze), and he enlists Baby as his new dance partner. Despite Baby's father's disapproval, the two fall in love, and she sets her eyes on helping him perform the last big dance of the summer.
Closing out the series will be "The Sandlot," showing on August 16. The 1993 cult-
classic follows the many adventures of a group of young baseball players living in Los Angeles in the summer of 1962. It stars Tom Guiry, Mike Vitar, Karen Allen, Denis Leary and James Earl Jones. New kid on the block Scotty Smalls (Tom Guiry) is taken under the wing of young baseball star Benny Rodriguez (Mike Vitar), and, along with his friends, the nine boys become a team, confronting the mystery beyond the right field wall.
Tickets for each movie are just $5 and will be sold at the door.
The Knickerbocker Theatre is located downtown Holland at 86 E. Eighth St.