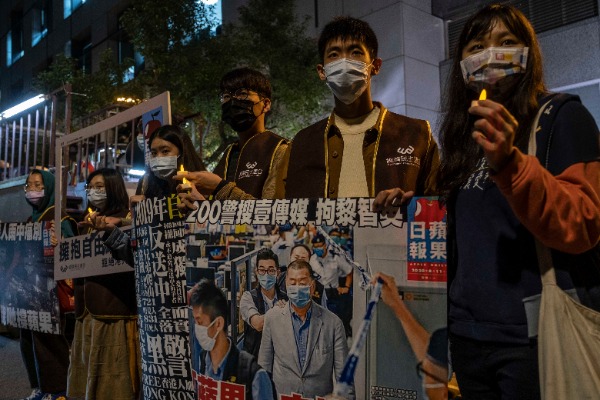 The Markets & Morality student organization at Hope College and Western Theological Seminary are co-hosting a screening of the documentary "The Hong Konger: Jimmy Lai's Extraordinary Struggle for Freedom," followed by audience discussion with one of the film's producers, Dr. Stephen Barrows, on Monday, Oct. 24, at 7 p.m. at the Knickerbocker Theatre.
The public is invited. Admission is free. The event will also include free concessions.
Jimmy Lai was arrested in 2020 for his role in pro-democracy protests opposing China's policies in Hong Kong and is currently in prison. As described in the film's promotional materials, "When Hong Kong's basic freedoms come under attack, media tycoon Jimmy Lai finds himself in the crosshairs of the state and must choose between defending Hong Kong's long-standing liberties, or his own freedom."
Lai had fled Maoist revolutionaries in China as a 12-year-old in 1959 and began a new life in Hong Kong as a textile worker. In 1981, he founded Giordano, an international clothing retailer. He founded Next Media in 1990 in response to China's 1989 Tiananmen Square Massacre, and in 1995 founded the Apple Daily newspaper. Sovereignty over Hong Kong was transferred from the United Kingdom to China in 1997. The film's materials continue: "As China retreated from its 'one nation, two systems' policy and began installing pro-Beijing leaders in Hong Kong, Jimmy became a leading voice against repressive policies. Jimmy could have fled but he chose to stay, marching alongside millions of his fellow Hong Kongers in defense of freedom and democracy. He was soon arrested and jailed. International banks froze his assets. Apple Daily was raided and key executives arrested. In June 2021, Apple Daily printed its final edition and shut its doors."
"The Hong Konger: Jimmy Lai's Extraordinary Struggle for Freedom" was developed by the Grand Rapids-based Acton Institute in association with Crossfire Productions and Iron Light Labs. Barrows is the institute's chief operating officer. Prior to his work at Acton, he served as the executive vice president, provost and dean of faculty at Aquinas College, where he was also a tenured associate professor of economics.
The Markets & Morality student organization aims to support and celebrate freedom of expression in the context of the liberal arts by hosting speakers and films on topics spanning the economic, political and cultural aspects of human civilization, with a special concern for human flourishing as understood in Christian perspective.
Western Theological Seminary prepares women and men for Christian ministry around the world as pastors, chaplains, non-profit leaders, and church planters. Students and community members are encouraged to take a keen interest in the social, political, and economic events that affect the world, especially those that impact religious freedom or threaten to diminish the value of the individual created in the image of God.
Audience members who need assistance to fully enjoy any event at Hope are encouraged to contact the college's Events and Conferences Office by emailing events@hope.edu or calling 616-395-7222 on weekdays between 9 a.m. and 5 p.m. Updates related to events are posted when available in the individual listings at hope.edu/calendar
The Knickerbocker Theatre is located in downtown Holland at 86 E. Eighth St., between College and Columbia avenues.