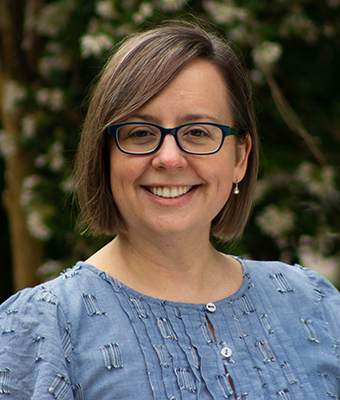 Dr. Sarah Estelle of the Hope College economics faculty has conducted a state-by-state examination of religious liberty in the U.S. that will provide concrete data for anyone anywhere interested in how free exercise is legally safeguarded — or not safeguarded — across the country.
The project, titled "Religious Liberty in the States," will debut with a livestreamed launch event on Wednesday, Sept. 14, at 11 a.m. at George Washington University in Washington, D.C., that is being co-sponsored by the Center for Religion, Culture & Democracy (CRCD), which commissioned the research, and GWU's John L. Loeb Institute for Religious Freedom. The livestream can be watched with the study, including the data and detailed overview of the methodology, subsequently available on the CRCD website.
The study rates each of the 50 states via a percentage reflecting its legal protections of freedom of religion. The scores are built on how each state fares in 11 different categories — like safeguards for absentee voting based on religious conviction, or provisions allowing healthcare providers to refuse to provide abortions — that can be measured quantifiably.
Those wondering where each state ranks will need to wait until the Sept. 14 launch, but Estelle, an associate professor of economics at Hope, notes that the results may not be what people might assume based on how some states are perceived ideologically.
"There's a red and a blue state near the top, and a red and a blue state near the bottom," she said.
And no one earned a perfect score, with the results ranging from a low of 16% to a high of 82%. Plus, Estelle noted, "The vast majority of Americans live with less than 50% of the protections."
Estelle recognizes that the specific issues deriving from the intersection of personal faith and the public sphere are often about as hot-button as can be, but she hopes that the study will be unifying by providing solid data based on benchmarks that provide a common point of reference for discussion.
"It's designed to have usefulness to scholars, but also the general populace and people interested in policy," she said.
"Living in a pluralist society requires us to sort these things out," she said. "It's not a partisan issue. It's something that can bring us together in these highly partisan times."
The background accompanying the data set details the research approach, including not only what was considered but wasn't. "I talk a lot about the methodology," Estelle said. "How did we know which laws to look at? How do we even define liberty?"
She explains, for example, that anything clearly settled at the federal level is out of the mix (so, the study doesn't consider the formal establishment of an official state religion since the Constitution is quite clear about that). In the same way, she said, while something like a zoning law can have implications for religious freedom (like whether or not a church might be allowed someplace), that's generally a local issue and not prescribed by a state.
Estelle began the data collection in May 2021, and completed the project this summer. She notes that it has offered an ideal opportunity to apply both her professional background in microeconomics, with its emphasis on careful measurement, and her interest in applying her discipline to larger questions.
"I've been trained in the empirical work, and since coming to Hope I've been shifting my focus to these big ideas on liberty in a way that brings these things together," she said.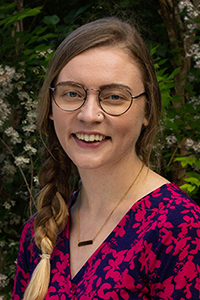 Estelle has worked throughout the project with research assistant Camryn Zeller, who came onboard the day after graduating from Hope in May 2021. Zeller teaches elementary school in Texas, so for the past year she has been fitting the project around her full-time role, but as an economics major had previously conducted research with Estelle as a student.
"If she had not been part of the project, it would have been very hard to do," Estelle said. "She knew what to expect, and I knew what I could expect of her."
Estelle also notes that the work isn't really done, since the material being launched on Sept. 14 is a starting point. With a standard framework now in place, the plan is to continue to measure the states' performance and provide annual updates to reflect changes across time.