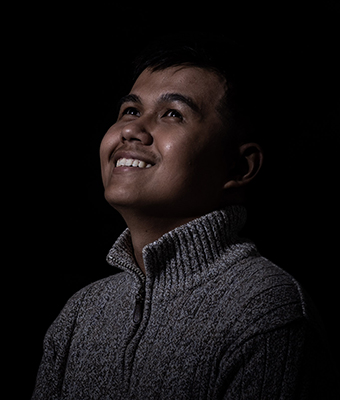 Hope College junior Jairus Meer will be the only undergraduate student who will be a featured speaker during the 12th Annual National Summit of the Courageous Conversation Global Foundation, taking place on Oct. 1-5 in Washington, D.C.
Meer, who is from the City of Las Piñas in the National Capital Region of the Philippines, will be participating as a 2022 Courageous Conversation Global Foundation Equity Leadership Fellow. He will be presenting a keynote speech on Monday, Oct. 3, reflecting on his experiences with race along with his perspective as an international student and Filipino.
Celebrating its 30th anniversary, the Courageous Conversation Global Foundation seeks to elevate racial consciousness through interracial healing. As explained by the foundation, "We believe that the key to driving systemic change in communities all over the world is uniting people of all races and helping them engage in authentic, sustained and compelling interracial dialogue."
The goal of the foundation's Equity Leadership Fellows program is to develop a diverse group of emerging young leaders who can contribute to intra-racial and interracial healing locally and across the globe. Just 31 students from 10 colleges and universities across the country are members of the current 2022 cohort of Equity Leadership Fellows.
This year's summit is themed "Courageous in the Capital," and taking place at the Washington Hilton — the venue that hosts the Washington Correspondents' Association dinner each year. The event is assembling racial equity leaders from across the nation and around the world to center race and its impact on opportunity and achievement for all students. In addition to Meer, the featured speakers will be Glenn E. Singleton, founder and president of Courageous Conversation; Kimberle Crenshaw, a professor of law and co-founder and executive director of African American Policy Forum, Yaba Blay, a scholar-activist, award-winning author and cultural critic; Eddie Glaude, author, political commentator and educator; and Frank Wu, President of Queens College.
Meer is majoring in biology and pursuing a minor in peace and justice studies, and has participated in collaborative research during the summer. Among other campus activities, he is chief of culture and inclusion-elect with Student Congress; active in the Asian Student Union; and has been a resident assistant. This past May, he attended the college's Celtic May Term: Peace and Reconciliation in Northern Ireland and Scotland.
He is one of three Hope students to have been named 2022 Courageous Conversation Global Foundation Equity Leadership Fellows. The others are juniors An Bao Ha of Carol Stream, Illinois, and Ada Rios of Park City, Illinois.
In addition to Hope, the colleges and universities with Fellows are Christopher Newport University; Claremont McKenna College; Drexel University; North Carolina Central University; Oakwood University; San Francisco State University; UCLA; the University of Houston, Downtown; and the University of Texas, Austin.
Portrait photo by Hope junior Haniah Kring.