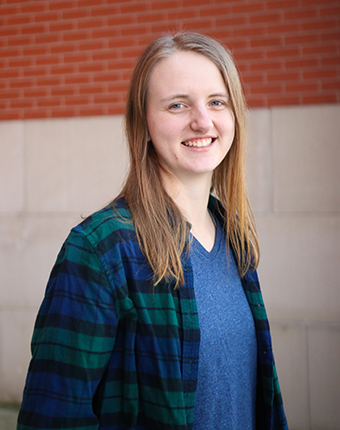 Hope College senior Leah Reinardy of Zeeland has been honored as a national semi-finalist for the Heumann-Armstrong Award by Equal Opportunities for Students.
Presented in collaboration with the American Association of People with Disabilities and The Coelho Center for Disability Law, Policy, and Innovation, the award recognizes "students in the sixth grade and higher, including higher education, who have experienced ableism in education, and shown a passion for fighting ableism in education." This year's honorees are six winners and 10 semi-finalists from colleges, universities and secondary schools around the country, including college undergraduates, recent graduates and graduate students; a high school student; and a middle school student.
As featured in the overview presented by Equal Opportunities for Students, Reinardy "is passionate about addressing disparities in disability employment and researches how managers and teams can collaborate in more accessible and inclusive ways." The overview also notes that "Their lived experience with chronic illness, neurodivergence, and mental health conditions shape their work as a leader, educator and consultant."
Reinardy was a founding member and is currently president of Hope Advocates for Invisible Conditions, a student organization that empowers students with disabilities and advocates for accessibility in the community. As an autistic educator, Reinardy speaks at conferences and higher education courses, contributes to the My Dearest Friends Project, and is a TEDx speaker.
Reinardy is dual-majoring in music and business. In addition to Hope Advocates for Invisible Conditions, Reinardy's campus activities have included the Jazz Ensemble, Wind Ensemble, Percussion Ensemble, and Orchestra; Prism, a student organization that strives to give the Hope community a place to learn, support and advocate for the rights of LGBTQ+ students; and the Phelps Scholars Program, a residential academic program in which freshman students explore topics of diversity.
Equal Opportunities for Students is a student-led project that deals with issues of educational equity. The organization's goal is to promote civil rights in education, and inform parents and students of different educational options and programs they might not have known about before.