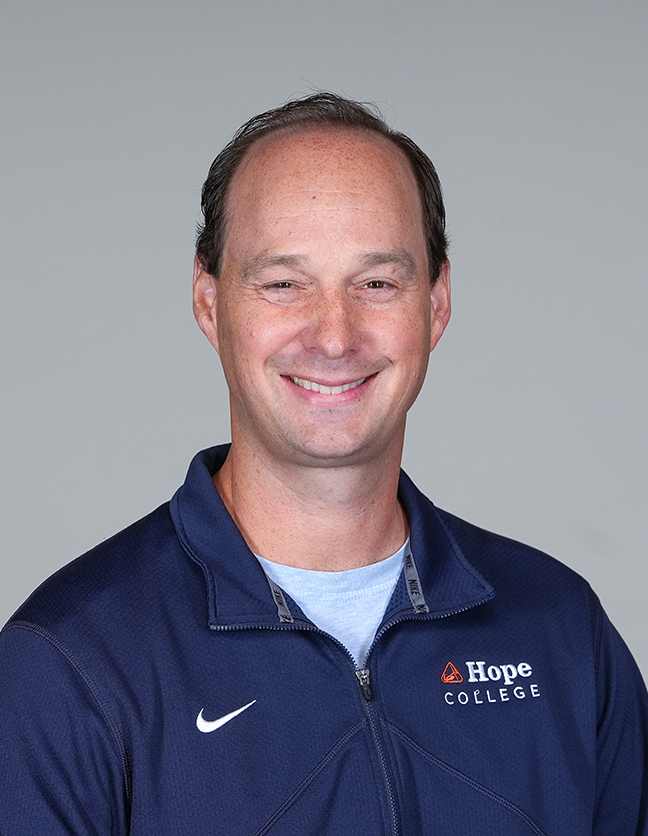 Virologist Dr. Benjamin Kopek of the Hope College biology faculty has received a Fulbright U.S. Scholar Award that will take him to Paris, France, to participate in the international effort to head off future global pandemics.
He will spend the 2022–23 academic year conducting research at the Pasteur Institute. It's an understatement to say that he's looking forward to spending the year at the place that he notes is not only the world leader in infectious-disease research, but where the field of study began.
"I'm really excited to go to the Pasteur Institute. Louis Pasteur was the father of microbiology," said Kopek, an associate professor of biology. "I've read stories of other American scientists who have gone to Pasteur to pursue study of infectious disease, and I'm honored to have the opportunity. It's really a dream come true for me."
There's a certain amount of irony that led to his Fulbright award. Kopek was originally scheduled to pursue the research at the institute in the fall of 2020 during a regularly scheduled sabbatical leave from Hope, but was unable to go because of the global COVID-19 pandemic. He used the delay to develop his Fulbright application, with the worldwide tragedy providing a devastating example of such work's relevance.
"Most people see the significance of viruses, but this was sort of an in-your-face demonstration of why we need this research," he said.
Kopek will be focusing on a specific step in the route traveled by many infectious diseases, seeking to determine why the insects such as mosquitos that frequently spread them don't get sick.
"The overall objective of this research project is to improve human health by identifying the unique features of the insect immune system that allow insects to survive infection with a pathogenic human virus," he said. "Understanding the relationship between virus infection and the insect immune system could allow one to control insect-to-human transmission of these pathogens."
Kopek will be working in the laboratory of Dr. M. Carla Saleh, whose team has been following the same line of inquiry. He'll be focusing on the fruit fly Drosophila, which has the advantage of having an immune system similar to that of mosquitoes without the disadvantage of needing blood meals.
He will be building on his ongoing research program at Hope, which integrates advanced imaging methods with molecular biology techniques to investigate how viruses replicate and how they interact with others. He will be taking what might be viewed as a two-tier approach to study how the fruit flies' cells behave. The first step involves a technique called fluorescence microscopy, essentially adding color to what he's viewing to make it stand out. From there he'll use electron microscopy, which will provide a more zoomed-in look.
Kopek has been a member of the Hope faculty since 2014. He has played a leadership role in guiding the college's approach to mitigating the presence of COVID-19 on campus, and along with colleagues has been involved in the college's wastewater-testing program.
He has had several articles published in refereed research journals. He held a three-year Towsley Research Fellowship from Hope from 2017 to 2020.
Hope students assist with his research year-round, with many having made presentations at professional meetings. The courses that he typically teaches include the lecture and laboratory components of Introductory Biology and of Virology, and the lab for the year-long Honors (Day1 Phage) Introductory Biology course.
Kopek graduated from Spring Arbor College with a degree in biochemistry in 2002. He completed his Ph.D. in cellular and molecular biology at the University of Wisconsin-Madison in 2008. Following his graduate work, he developed new methods for correlative super-resolution fluorescence and electron microscopy at the Howard Hughes Medical Institute-Janelia Research Campus in Virginia.
The Fulbright U.S. Scholar Program is a program of the U.S. Department of State, funded by an annual appropriation from the U.S. Congress to the U.S. Department of State's Bureau of Educational and Cultural Affairs, and supported in its implementation by the Institute of International Education's Council for International Exchange of Scholars. It is the largest program of its kind in the United States, awarding more than 800 fellowships annually. Over 400 different types of opportunities are available for U.S. citizens to teach, research and conduct professional projects in more than 135 countries. Recipients include college and university faculty as well as artists and professionals from a wide range of fields.