Hope student Kelsey Sivertson was awarded the Kennedy Center American College Theater Festival's top national prize in theatre journalism in April. She is pictured in January, when she won the top recognition for the region that includes Hope.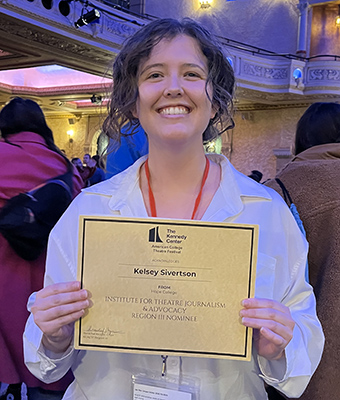 Kelsey Sivertson, a Hope College student who just completed her junior year, has received the Kennedy Center American College Theater Festival's National Institute for Theater Journalism and Advocacy's top prize. The national competition took place virtually over the weekend of April 28 and Sivertson was the top performer among the other regional representatives from across the country, earning her a spot in the National Critics Institute at the Eugene O'Neill Theater Center.
The Kennedy Center's Institute for Theater Journalism and Advocacy (ITJA) was established to assist in elevating the level of arts criticism, journalism and advocacy; and to provide writers the opportunity to grow at the same pace as the artists whose work they review, celebrate and interpret. Sivertson initially took part in ITJA's regional workshops at the Kennedy Center American College Theater Festival (KCACTF) for Region III in Flint in January of this year. She received top recognition for her region, which consists of theatre students from Illinois, Indiana, Michigan, Wisconsin and Western Ohio.
Sivertson's regional honor advanced her to the National ITJA conference facilitated by Ashley Lee, who is the ITJA's national director and is a staff reporter at the Los Angeles Times, where she writes about theatre, movies, television and the intersection of the stage and the screen, and is herself an alum of the National Critics Institute.
"Throughout the national edition of the program, Kelsey proved herself to be a promising arts reporter and critic: asking thoughtful questions while interviewing the creators of an off-Broadway musical, drafting an interesting audio review of the production and filing a feature that was both written well and entertaining to read," Lee said. "I hope the National Critics Institute is as fruitful an editorial experience as it was for me, and I look forward to all she'll undoubtedly contribute to the world of theater journalism."
Sivertson is new to the Hope College Department of Theatre, transferring this past year after completing her Associate of Arts in Literature at Grand Rapids Community College. A non-traditional student, she worked full-time and went to school part-time at GRCC for six years before deciding to pursue her bachelor's degree full-time at Hope. A senior double-majoring in theatre and creative writing, Sivertson noted that she found a rich intersection of her passions in ITJA.
"My participation in ITJA opened my eyes to the career possibilities my studies in both theatre and creative writing grant me access to," Sivertson said. "Rich opportunities like ITJA remind me again and again of the value of a liberal arts education. I look forward to continuing to hone my skills as a writer in my final year at Hope and beyond."
Michelle Bombe, who is a professor of theatre and department chair at Hope, is concluding her four-year term as KCACTF's National Chair. Bombe was instrumental in Siverton's decision to pursue ITJA at the regional festival in January and serves as both professor and continued advisor to Sivertson.
"Kelsey has quickly become an integral part of our theatre department," Bombe said. "In addition to her courses, she co-wrote a play that was student produced, portrayed Paulina in our production of 'A Winter's Tale,' served as the student representative to meet with prospective students, and participated in KCACTF. Kelsey joined our department eager to learn and participate, and we are so fortunate to have her talent, thoughtfulness and generosity of spirit creating with us."
Sivertson's recognition gifts her with an invitation to the National Critics Institute, a two-week workshop at the Eugene O'Neill Theater Center in Hartford, Connecticut, running July 5-16. The National Critics Institute is the nation's only program designed for arts writers and critics. The workshop is traditionally attended by writers who are mid-career. Sivertson will be the only undergraduate student in attendance.