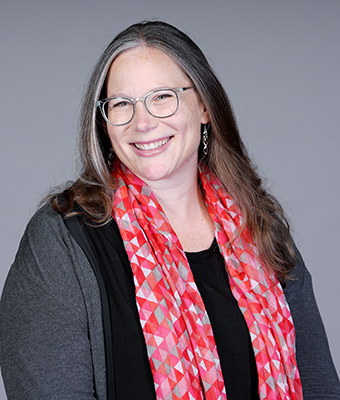 Dr. Lindsey Root Luna, who is an associate professor of psychology and department chair at Hope College, has been recognized as a Fellow by the Midwestern Psychological Association (MPA).
To be named an MPA Fellow is the highest honor that the association can bestow on a member. Selection requires evidence of significant contributions to the discipline of psychology and/or service to the MPA in terms of scholarship, productivity, leadership and visibility. Honorees must also have been MPA members for at least three years, and have had at least five years of professional experience since completing the doctoral degrees. Fellows are selected by a committee including the MPA's president-elect, current president and past-president after having been nominated.
Five other members of the college's psychology faculty were named Fellows in earlier years. Dr. David G. Myers and the late Dr. John J. Shaughnessy (who died in 2015) were honored in 2010; Dr. Daryl Van Tongeren was honored in 2019; and Dr. Mary Inman and Dr. Charlotte vanOyen Witvliet were honored in 2021.
Root Luna has been a member of the Hope faculty since 2012. A 2003 Hope graduate, she returned to the college as a faculty member with a desire to engage intentionally in faith integration and grow her research program in virtues and emotion regulation.
She began studying forgiveness within a psychological framework when she was a student at Hope, and since joining the faculty she has engaged students collaboratively in her research. She continues to investigate how forgiveness impacts the body along with how embodying humility, gratitude and hope impact physiological functioning, in particular, heart rate variability. She has had several articles published in refereed journals.
Root Luna is a past vice president of the Midwestern Region of Psi Chi, the International Honor Society in Psychology, which is an affiliate of the MPA. She has advised the college's chapter of Psi Chi since 2014, and received the Regional Faculty Advisor Award for the Midwestern Region in 2017. During her time as advisor, the chapter has received two Model Chapter Awards and the Kay Wilson Officer Team Leadership Award. In addition, three groups of students she has mentored have won regional Psi Chi research awards.
Her teaching responsibilities in the Department of Psychology include Introduction to Psychology, Research Methods in Psychology, Behavior Disorders, Perspectives on Personality, Advanced Research in Psychology, Clinical Psychology and Neuroscience Capstone. In addition to advising Hope's chapter of Psi Chi, she advises the Psychology Club. The college's graduating senior class presented her with the "Hope Outstanding Professor Educator" (H.O.P.E.) Award in 2017.
Prior to coming to Hope, Root Luna completed her pre-doctoral internship at Pine Rest Christian Mental Health Services in Grand Rapids and maintains a private practice there one day per week. She was a faculty member at Ferris State University for three years before joining the Hope faculty.
She completed her master's and doctorate in clinical psychology at the University of Miami in 2005 and 2009, respectively.
The Midwestern Psychological Association has members from universities, colleges, hospitals, clinics, school systems, business and industry, government and private practice. The MPA's purpose is to promote the advancement of psychological science by conducting an annual meeting at which papers, posters and symposia addressing psychological research may be presented. The association's 95th annual meeting will be held on April 20-22 in Chicago, Illinois.