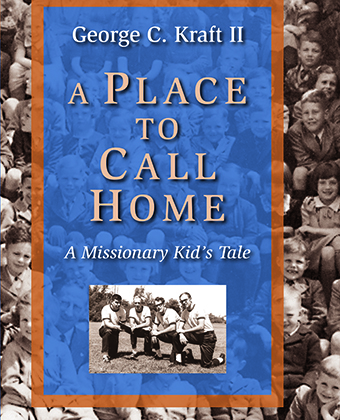 On one level, the memoir "A Place to Call Home" by retired Hope College kinesiology faculty member Dr. George Kraft, published in December by the college's A.C. Van Raalte Institute, reads like an "Eyewitness to History" adventure story:
On his third birthday, the son of missionary parents in China during World War II, he and his family flew to India across "The Hump" — the dangerous, tenuous and essential aerial supply route through the Himalayan Mountains — aboard a U.S. Army Air Corps C-47.

Madame Chiang (Mei-Ling) Kai-shek, an outspoken Christian, visited his school. (She and her husband had a summer villa in the popular resort community of Guling, where the school was located. Mao Zedong also had a villa there.)

While the Kraft family was back in China in the years following the war, the hostile communist government that eventually took control made leaving in 1951 necessary and yet uncertain, with interrogations and searches finally ending with a walk across a bridge to British Hong Kong.

As a student and football player at Wheaton College in the early 1960s, he prayed and sang — along with his teammates — with well-known evangelist Billy Graham, a 1943 Wheaton graduate.

Serving in the U.S. Army in West Berlin in 1963, he was one of three officers in charge of Checkpoint Charlie on the border with East Berlin, and helped secure the route traveled by John F. Kennedy when the president was on his way to his famous "Ich bin ein Berliner" address.
The book, however, has a more personal focus. Subtitled "A Missionary Kid's Tale," it explores the immediate and lasting impact of being an "MK" growing up in the British-modeled boarding-school system far from family, sometimes for years on end.
As Kraft writes, "One of the legacies of my parents' missionary experience is the long periods during which we children [he and his younger brother and younger sister] were absent from them. The impact of these absences on MKs is varied; some (like me) reveled in the time with peers in boarding school, whereas others had a much more painful experience."
Author Hazel Gaynor, whose 2020 book "When We Were Young & Brave" reached the New York Times bestseller list, has described Kraft's book as "both a deeply personal memoir and an important historical and cultural document, capturing the unique experience of life as a child of missionaries. George has given a voice to those who were too young to be heard at the time."
"A Place to Call Home" has been published the A.C. Van Raalte Institute through the institute's Van Raalte Press. The institute will host a book-signing with Kraft on Monday, Feb. 20, from 10:30 a.m. to 12:30 p.m. in the rotunda of the college's Martha Miller Center for Global Communication. Copies will be available for purchase at the event.
The book is the fourth in the Van Raalte Press' Missionary Memoirs Series. The series is devoted to chronicling the untold stories of missionaries of the Reformed Church in America and the Christian Reformed Church in North America, and Hope College alumni who worked to proclaim the Christian Gospel both at home and abroad — or, as in Kraft's case, as a longtime faculty member with a related perspective on the work and experience. Kraft retired from Hope in 2005 as a professor emeritus of kinesiology after teaching, coaching and serving as an administrator at the college since 1967.
Kraft's parents, Pearl and George Sr., weren't affiliated with Hope or the RCA or CRC. Originally from Minnesota, where they'd gone to school, they went abroad through China Inland Mission, a nondenominational agency now named OMF (Overseas Missionary Fellowship) International. They were single and embarking on individual journeys in the mission field when they arrived in China in 1934 and 1935, respectively, but had known each other casually previously. They struck up a correspondence once in-country, and ultimately were married in China in 1938, with George Jr. born there the following year. As a couple they evangelized primarily in western China and Tibet, and George Sr. became particularly respected for his ability as a linguist and work with people in rural areas.
"A Place to Call Home" traces their careers, but primarily the narrative follows Kraft's childhood experiences, both light-hearted and difficult. He recounts playing tag and learning soccer; enjoying surreptitious games "Monopoly" with friends after lights-out using components they made from memory after the school confiscated the official version; and feeling awe at the natural beauty of Guling. More somberly, he recalls the pain of extended separation from family — which his parents' correspondence makes it clear they felt as well — and the challenges of adjusting to life in a culture very different than the one in which he was raised.
Extensive endnotes provide additional historical, cultural and personal background. As one example, he shares that the Japanese ship that in 1934 carried his mother across the Pacific from the U.S., the "Heian Maru," was sunk during World War II and today is a popular scuba diving destination. As another, he outlines how he came to identify as a Presbyterian (growing up in a strong but non-denominational Christian tradition, it seemed as good a choice as any when the Army required one). To provide additional context for his experiences, he explains how the dynamic between Mao Zedong and Generalissimo Chiang Kai-shek shaped 20th century China. Later, Kraft presents an overview of the 1991 Oakland Hills firestorm in which his father's home was among the thousands of dwellings destroyed.
And in the end, Kraft comes full circle to the book's title, reflecting on the lifelong love of singing and of sport that he developed while in China, and on the routing that led him to Wheaton College, where he met spouse Robbie; to his doctorate in physical education from Indiana University; and eventually to Hope, where he ultimately found "A Place to Come Home," remaining in Holland still.
"Life is what you make of it," he writes. "My father survived a turbulent youth and thrived in faraway Tibet. My mother, on her way to educational leadership in the Twin Cities, found that she was called in a very different direction. I do not regret the life that their choices produced for me. It has been a rich one, filled with adventure and challenges beyond most folks' wildest imaginations. In the end, I am grateful that I found Robbie and that we both found Hope College in Holland, Michigan, a place to call home."
Established in 1994, the Van Raalte Institute specializes in scholarly research and writing on immigration and the contributions of the Dutch and their descendants in the United States. The institute is also dedicated to the study of the history of all the people who have comprised the community of Holland throughout its history. In 2007, then-director Dr. Jacob E. Nyenhuis established the Van Raalte Press as a vehicle to publish the works developed by the institute. The Van Raalte Press is also the official publisher of papers presented at the biennial conferences of the Association for the Advancement of Dutch American Studies.
The Missionary Memoirs Series is edited by Dr. Donald A. Luidens, director of the Van Raalte Institute. The first three volumes are "Seeds of Hope, Hate, and Change: Missionary Witnesses to the Middle East in Transition," by Luidens, published in 2020; "Margaret's Mission," written by Paul Heusinkveld, with Margaret Doorenbos, published in 2021; and "Faith, Hope, and Love: The Hakeem's Journey: The Adventures of Pioneer Missionary Physician Dr. Wm. Wells Thoms, FACS, in Arabia Before Oil," written by Dr. David G. Dickason, also published in 2022.
"A Place to Call Home: A Missionary Kid's Tale" is available for $30. In addition to being available at the book-signing, it can be purchased at hope.edu/bookstore as well as through Amazon.
The Martha Miller Center for Global Communication is located at 257 Columbia Ave., at the corner of Columbia Avenue and 10th Street.